News
Afrika Eye Festival returns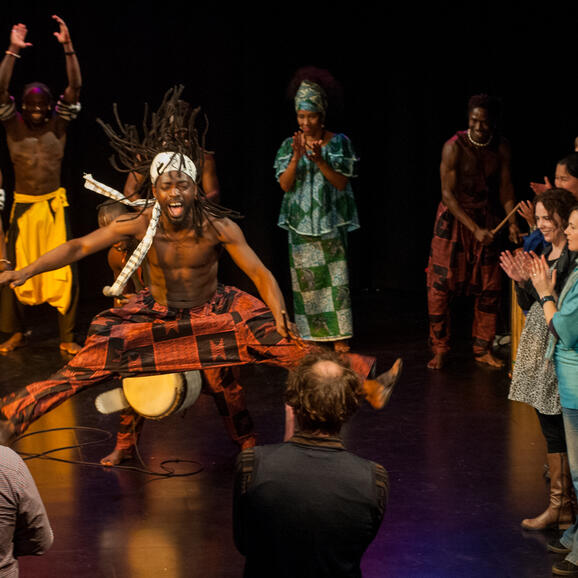 The South West's biggest celebration of African cinema and culture returns from Fri 10 - Sun 12 Nov with another packed weekend line up.
Come and join us at Watershed for a fantastic programme of films - an eclectic mix of features, shorts and documentaries - alongside discussions, workshops and live music, featuring film talent, artists and academics from across Africa and the diaspora.
The Festival opens on Fri 10 Nov with a special preview of the critically acclaimed, Kinshasa set, Félicité directed by Alain Gomis - we are honoured that the screening will be attended by the film's leading star, Véro Tshanda Beya Mputu. Afterwards, get up and dance at the Opening night party in the Café/Bar where the compelling sounds of Ballet Nimba will stir up the party vibe.
Festival Director Annie Menter says:
"Now is an exciting time for African cinema and as our audience grows so does their interest in the breadth and quality of films directed and produced in Africa, where tradition meets contemporary society and where the role of politics, religion and personal relationship shape the stories and the histories."
Special features this year include Africa's Lost Classics programme - including 90s classic Rage the first independent film by a Black filmmaker to get national release in the UK - which is as relevant and remarkable today as when it was released. The ever popular Eyefull Short Film Competition is curated by Irish-Nigerian student Olamiposi Ayorinde, while The Best of Africa's Shorts showcases four award-winners from recent years. Plus featured shorts filmmaker Daouda Coulibaly's new political thriller Wùlu, the tale of a fast-rising drug dealer, screens on Saturday night.
We're also showcasing some outstanding and very different documentary filmmaking, Liyana combines documentary and fiction and clearly shows the power to entertain, inform and heal; Paa Joe and The Lion is a celebration of craftsmanship and takes a look at the Grandfather of Ghana's Fantasy Coffin trade.
Afrika Eye brings not just one but three nights of music to the festival this year - so come on down to the Café/Bar every evening to experience different and distinctive music from across Africa, or get involved in our family workshops in music, circus, dance and animation. Plus - join us on Saturday afternoon for a Latin-flavoured tea dance with the amazing veteran South African dancer Elsa Perez still dancing at the grand old age of 82!
The Festival's closing film is The Wound, a brutal yet beautiful study in identity which juxtaposes the honour of male Xhosa initiation with the taboo of homosexuality and which has drawn comparisons with Moonlight. Afterwards, master mbira player Chartwell Dutiro and his talented son bring the mesmerising and sweet sounds of traditional Zimbabwean mbira music – a gentle acoustic set to close the festival. You're in for a real treat.
Look out for the events at venues around Bristol and see the full Afrika Eye season programme here.