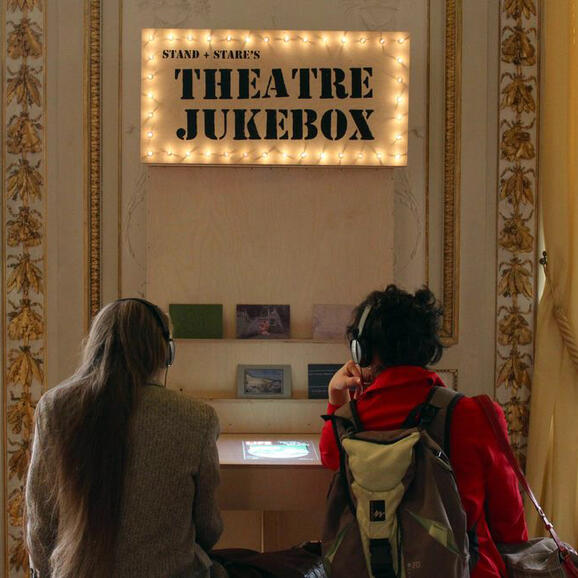 We have opened doors for Stand + Stare
The Watershed stamp of approval has helped interactive design company Stand + Stare explore new directions
Stand + Stare is the partnership of brother and sister Barney and Lucy Heywood. They started out making immersive theatre, then moved into interactive design for exhibitions, and have recently begun creating new digital publishing projects.
One of their first encounters with Watershed was the Theatre Sandbox programme. Lucy had attended a workshop and decided to pitch a project, for which they had an interview on the day they opened their first theatre show in Bristol.
Barney says, "We proposed a large-scale immersive theatre project that was totally unrealistic, using interactive mirrors and projection."
"We weren't surprised that we didn't get it," adds Lucy. "But then we were invited by Clare Reddington, Watershed's Creative Director, to come and visit the Pervasive Media Studio, and there we met producers Victoria Tillotson and Katie Day, who were leading the Theatre Sandbox programme. Here was this whole other world that we didn't have any understanding of and didn't know the language, but we could see huge potential in it for our work."
They then applied for a residency at the studio to develop a new project called Theatre Jukebox. Despite being unsuccessful, they contacted Victoria and asked whether they could spend some time developing the idea in the studio anyway and, as Lucy recalls, "that's when they offered us the micro-residency".
"We wrote a blog for their website every week and had feedback from residents at various points. Everyone was really honest, but was really nice and gave good critical feedback that was really useful. And at the end of the six-weeks we had our first rough jukebox."
The micro-residency led to introductions to Future Everything, which in turn led to Stand + Stare being funded by Arts Council England to create two jukeboxes based on the Mass Observation archive. These jukeboxes were installed at Future Everything in Manchester and at Mayfest in Bristol.
Since that time, many other doors have opened for Barney and Lucy through their connection to Watershed, including projects for the RSC, the Museum of Science and Industry in Manchester and more recently Carnegie Hall in New York.
They also credit other organisations and contexts, including Mayfest, Bristol Old Vic, Theatre Bristol and the Tobacco Factory Theatres in Bristol and the SVA in Stroud as being helping hands on their way.
"It's nice when you don't have to go out and blow your own trumpet. It's nice to have people doing that for you! And you get to have meetings, Watershed gives our work a stamp of approval," says Lucy.
Stand + Stare's involvement with Watershed has completely shifted their practice. Before encountering the Pervasive Media Studio they were making immersive theatre, and now their projects are just as likely to be an installation, a book, or an app.
"The platform might be different, but the thinking behind it is similar," says Lucy.
This diversification has helped them think differently about how to fund their work, meaning they rely less on Arts Council England. They credit Watershed with being instrumental in the pair earning a living from what they do.
Their current project, Mayfly, is being developed through the REACT programme led by the University of the West of England, Watershed, and the Universities of Bath, Bristol, Cardiff and Exeter, funded by the Arts and Humanities Research Council (AHRC) to develop strategic partnerships with creative businesses and cultural organisations. A kind of interactive travel journal, the book works in conjunction with an app to record sounds that, through image recognition, are then linked to the pages.
Barney: "It's a whole different world. We're making a product, rather than a commission; something you buy in a shop. It'll be a platform, a creative tool for people to use."
Stand + Stare are also working on the Tangible Memories Project with Bristol University developing an app that allows older people to create interactive books that contain audio stories.
Their other major project over the summer is a commission for Carnegie Hall in New York, for whom they are developing a third app. This is to celebrate the Hall's 125th anniversary and will feature 12 stories from a range of different voices. The app will interact with printed postcards using AR to bring them to life.
"The studio and their expertise in business and all of those things that we don't have yet are going to be crucial to making these projects a success. We have the best support that we could wish for."
- Matthew Austin, November 2014
---