Event
Tue 5 Jul - Tue 6 Sep at Pervasive Media Studio
---
Make Shift
A space for 18-30 year old creatives to come together
Hosted by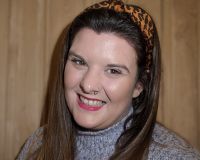 Liz is an interim Producer in Watershed's Talent Development team, working on the production and delivery of programmes engaging young people, spanning Rife, the Pervasive Media Studio and Cinema.
---
Event dates
Tue 5 Jul 17:30-21:00, Tue 6 Sep 17:30-21:00
---
Make Shift is a space for 18-30 year old creatives to come together in the Pervasive Media Studio at Watershed on the first Tuesday evening of each month. This is an opportunity to meet other creative people in the city, use one of our hot desk spaces, seek advice on projects you're working on or next steps in your career in a welcoming environment.
Each month we'll have a guest from the Pervasive Media Studio working in the creative industries who will speak about their practice and can give advice. Guest speakers will be experts in their field, anything from a VR film maker to a finance professional.
As part of July's Make Shift, composer and sound artist Duncan Speakman is offering an exclusive chance to experience his award winning audio augmented reality work "Only Expansion" and chat about the piece. Only Expansion is a combination of custom built electronics and a printed guidebook that takes you on a journey across the city while the sounds around you are remixed in realtime.
While you walk through Bristol, voices of passers-by become a choir or bus brakes create pulsating rhythms, these might then be blended with desert winds from Tunisia or the coasts of Norfolk, you may even hear what your own city would sound like if it were underwater. A visceral and poetic reflection on what it means to live on a planet in crisis, Only Expansion connects the here to the elsewhere, letting you experience our tangled world through sound.
Only Expansion was winner of the Best XR at London Film Festival last year and also won the Special Jury Award for Immersive Non-Fiction at International Documentary Festival Amsterdam - so it is not to be missed!
More info at https://duncanspeakman.net/projects/oe
The hosted element of the event will start at 17:30 and finish at 19:30. After that attendees are welcome to continue conversations or make use of our hot desks to do your own work in the Pervasive Media Studio until 21:00.
PLEASE NOTE: There will be no Make Shift session in August. Our July event will run as normal, then we'll take a break for the summer holidays and will be back in September.
Booking Info
There is no need to pre-book. Head to the Café & Bar and then follow directions to Pervasive Media Studio.
If drop in systems aren't accessible for you, please email jade.h@watershed.co.uk to book in. When you book in, we will link you up with a member of our team who will reach out to find out where you would like them to meet you and what time you will arrive. That team member can also arrange a time for you to visit the Studio for a 1-2-1 tour so you can familiarise yourself with our space before attending. We have a dedicated quiet space and dedicated quiet desks area, which all visitors are welcome to use.
Keeping Each Other Safe
Here is some useful information on what we expect from you and what you can expect from us when visiting us.
We ask you to please do the following:
- Where possible, take a lateral flow test before attending the event.
- Wear a mask when moving around the building, unless you are exempt. You are welcome to take it off when seated and if you are eating or drinking.
- Wash your hands regularly and/or use the hand sanitiser provided.
- Not shake-hands with other attendees.
- Socially distance at the event, wherever possible.
- Not attend in person if you have any Covid symptoms or have been advised to self-isolate.
To help keep staff and visitors safe, Watershed staff will do the following:
- Make sure that the venue is well-ventilated (the space can get cold, so we suggest wearing a jumper / coat)
- Clean equipment between uses.
- Manage the capacity to make sure spaces do not get too crowded.
About Pervasive Media Studio
The Pervasive Media Studio hosts an international community of over 100 artists, companies, technologists, and academics exploring experience design and creative technology.
We are a space for risk taking and early ideas; for the kind of projects and questions that inhabit the meeting points of art, technology, and society.
Our projects span play, robotics, location-based media, food, connected objects, interactive documentary, new forms of performance and more. We have an open plan studio with a culture if generosity, curiosity, and interruptibility. We believe that by clustering people together from a broad range of backgrounds, with differing skills, experience, and opinions, all of our ideas become better.
---