Posted on Thu 26 May 2016
---
Magic Hack! (World first)
On the 12th and 13th November we're running the world's first magic hack and looking for a small number of magicians to join us!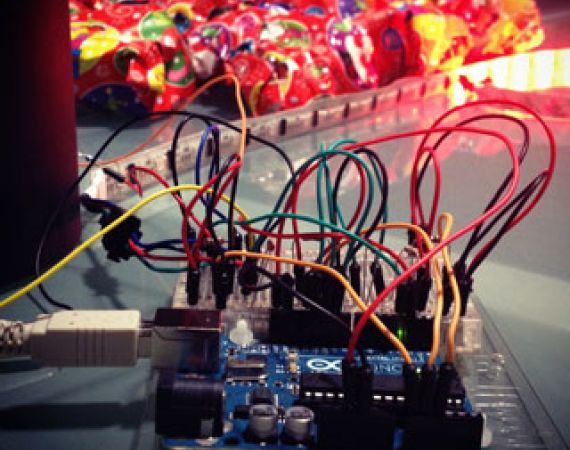 Posted by
Rosie was the Pervasive Media Studio Assistant between 2015-2017.
---
Project
During his residency, Keiron researched the synergies and opportunities between magic and the maker movement.
---
On the 12th and 13th November we're running the world's first magic hack and looking for a small number of magicians to join us!
What's a magic hack?
It's where you bring a group of talented magicians together with a group of technical geniuses (eg programmers, electronics experts) to collaborate and work on new ideas. ('Hacks' or 'Hackathons' come from the technology world where they are used to generate new ideas and prototypes http://en.wikipedia.org/wiki/Hackathon)
What happens?
The idea is that Magicians come with ideas they want to see made, or maybe just problems that they want see if technology can help solve. The technologists come with their skills and interest in finding new ways to solve problems. 
On the first morning people introduce themselves and talk about what they are interested in making. The rest of the time is spent working together to build projects.
Normally people break into small groups to work on projects that interest them. This could be 1 magician and several technologists. Or magicians might team up and work with a larger group of technologists if they think it would be better or if they have a similar idea that would benefit from working together in a larger group.
At the end of the 2 days everyone talks about what they have made and takes it away to hopefully use in their acts.
What do I need I bring?
An open mind, enthusiasm, curiosity and willingness to collaborate.
We'll provide food, drink, space to work, equipment and a crack team of technical geniuses.
What's in it for you?
It's free opportunity to develop your skills and knowledge in using new and emerging technologies in your magic.  You're getting hands on help to create new work, collaborate and build links with a group of highly skilled technology experts. 
Why are we doing this?
This is part of the Watershed and the University of Bristol's Magician in Residence programme, and only possible because of their support. I'm trying to help magicians develop skills in technology. Magicians are really creative but it's quite hard to start using technology in your act because of the skills and knowledge needed. I want to give magicians access to the amazing skills and knowledge through getting hands on with some of the people I've met on this residency.
Interested?
Email kieronkirkland@gmail.com
---
Posted on Thu 26 May 2016
We recently ran the world's first magic hack, bringing together magicians and technologists for 2 days to develop new ideas. I'll be frank, we had no idea if it was going to work....
Posted on Thu 26 May 2016
You want to know how magic works? Firstly, it breaks the rules.Secondly, it does so by using some supernatural force.The trick (ha!) is that the supernatural force changes depending on when and where you live. &nbs...