Support Us
Supporters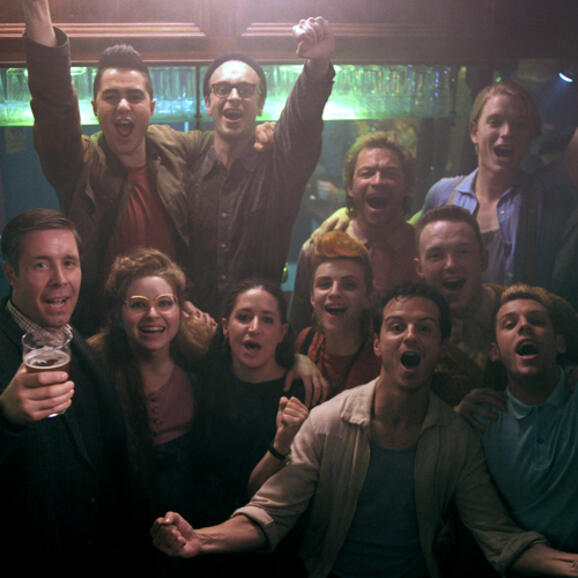 Individual Supporters
A big thank you...
To the following people who have made kind donations to support Watershed's work.
David Alexander
Lara Angel
Dylan Aplin
Jane Arthurs
Harriet Aston
Kay Bader
George Banting
Alan Barber
Richard Barlow
Layla Barron
Keith Bartle
Michael Barton
Andrew Barwell
Stephen Bear
Dann Beard
Janis Beavon
Annie Bell
Susan Berger
Trevor Blythe
Ervin Bossanyi
Celia Bradshaw
Stephanie Brammar
Philip Brown
Charlie Bulbeck
Jane Bunting
June Burrough
Mhairi Cameron
Esther Cameron
Finn Camm
Leslie Campbell
Michael Campbell
Max Campbell-Jones
Paula Cannings
Beryl Carlyle
Sara Cech-Lucas
Larry and Lyn Cetrulo
Susan Chambers
Phil Chapman
Sheila and Phil Cheatle
Stuart Chivers
Jon and Kerry Clayton
Robert Coatesworth
Lorenzo Colo
Rosie Cooke
Simon Cooper
Imogen Cowley
David Cuthbert
Jennifer Dahms
Caitlin Daley
Sally Daniels
James Davies
Alan Davies
Laura Davis
Amanda Davis
Katie Day
David De Berker
Marjo De Best
Mary Dearden
Lionel Demery
Ellie Denner
Jonny Denton
Roseanna Dias
Gien and Chas Donovan
Lottie Donovan
Richard Drake
Madge Dresser
Richard Durrant
Eoin Earley
Alison Edgson
Stephen Ellard
Paul Erne
Susan Eustace
Edward Evans
Catherine Fagg
Christopher Fallon
Anthony Farr
John and Julia Farrow
Anthony Featherstone
Robert Fields
Peter & Florence Fitzsimons
Rachel Fleming
John Flook
Alan Francis
Maureen Fraser
Rachelle Fuerth
Susie Fugle
Julie Furey
Polly Furness
Louise Gardner
Eli Gascoigne
Stephen Gatfield
Faye Gearing
Sue Gee
Paul Gelling
Vicky Gibb
Phil Gibby
Samantha Gibson
John Gilliard
Kathrina Glitre
Emily Goldblatt
Matt Golding
Norman Golding
David Goldstein
Dawn Gordon
Ludo Graham
Martin Grant
Michael Graves
Peter Grear
Hilary Green
Penny Leaver Green
Lesley Greig
Christina Gyles
John Hadley
Alison Hall
Caroline Hall
Robin Hambleton
Roger Hampson
Chris Hanmer
Jonathan and Claire Harper
Gillie Harries
John Harris
J Hawkins
Peter Hawkins
Tania Hershman
Jane Hickman
M J Higginbottom
Ron Hillel
Heidi Hinder
Peter Hollingworth
Brian Holst
Martin Homer
Nancy Horlick
Jacqueline Inglis
Amanda Ions
Mary Jackson
Seth Jackson
Cat John
Michael Johnson
Gregory Jolivet
Nikki Jones
Nikki Jones
Terry Kahn
Richard Kemp
Rosalind Kennedy
Vivien Kies
Jane Kilpatrick
Julie Lansley
Nisus Larsen
Ian J Legge
Christopher Leonard
Anthony Lewis
Diane Liell
Meg Lovelock-Brent
Jeffrey Lucas
Sue Luger
Sue Lyndon
Frances MacFarlane
Patrick Makin
Vijay Mamon
William Mather
Jonathan May
John Mayne
Sarah McCormack
Keith McGeoch
Robert Meech
Peter Metcalfe
Tim Miles
Jennifer Mills
Sarah Milward
Jeanette Monaco
Jane Morgan
Duncan Morton
Paul Morton
Paul Mugford
Helen Mutch
Helen Mutter
David Neal
Nisbet Family Charitable Trust
Emma Norman
Susan Norman
Sian Norris
Niel O'Neill
Carol O'sullivan
Dorinda Offord
Jez ONeill
Helen Ostle
David Owen
Harry Partington
S.E Peggs
Dick Penny
Geoff Perkins
Jeanette Plumb
Pete Postlethwaite
George Potter
Derrick Price
Robina Quainton
Fiona Rahman
Clare Reddington
Josephine Reid
Derek Rigg
Gill Roberts
Steven Robinson
Tony Robinson
Jane Rogers
Lois Rogers
Leanne Rogers
Polly Rose
Colin Ross
Alexandra Rotas
Tony Rowlands
Emily Ryan
Tia Salisbury
Richard Salmon
John Savage
Zoe Sear
Mitchell Seligman
Yvonne Sexton
Michael Shah
Johanna Sharrett
Tim Shearman
Vivienne Shelton
Nicole Sherwood
Shipham Community Cinema
Sabrina Shirazi
Elaine Shotton
Lesley Silvester
Maureen Sinclair
Paul Skinner
Luke Slater
Judith & Stephen Sluglett-Noreiko
Rosemary Smith
Malcolm Smith
Susan J.C Smith-Uncles
Frances Sommerville
Ann Sparks
Cameron Spence-Jones
David Sproxton
David Sproxton
Oliver Stanley
Rosemary Stephens
Elliot Stern
Kelsey Stewart
Claire Stewart
Laura Stiles
David Stockham
Nicholas Stott
Jan Swann
James Taljaard
Professor Helen Taylor
Richard Taylor
Andy Thompson
Rebecca Thurgur
Josh Tibbetts
Adam Tickell
Clare Titley
Nick Toop
James Touzel
Gail Treece
Ben Trewhella
Aidan Turner
Susan Turner
Pat Turton
Tilly (Caroline) Vacher
Ellisha von Grunewald
Vivienne Wadsley
Erich Wagner
Laura Walder
Allen Walker
James Walker
Jeannette Walsh
Linda Ward
Laura Ward
Stephanie Warman
Liz and Rich Warren
Deborah Watson
Sandy West
Jill Whitehall
Katharine Whitfield
Kate Whittle
Lynne Williams
Peter Williams
Stephen Michael Wilson
Sean Wilson
Dave Wonnacott
Raymond Woolfe
Martin Wyatt
Kirsty Young
Funders & Partners
Arts Council England South West  

Arts Council England is the national development agency for the arts. Their ambition is to place the arts at the heart of national life, reflecting the country's rich and diverse cultural identity as only the arts can.
Bristol City Council  

Bristol City Council is the elected government of Bristol. It has one overall purpose: to improve Bristol and the lives of all its people, now and for future generations.
Europa Cinemas

Founded in 1992 with funding from the MEDIA programme and from the Centre National de la Cinématographie, Europa Cinemas is the first film theatre network focusing on European films. Its objective is to provide operational and financial support to cinemas that commit themselves to screen a significant number of European non-national films, to offer events and initiatives as well as promotional activities targeted at Young Audiences and to screen digital European films.
University of the West of England

The University of the West of England, Bristol (Bristol UWE) is one of Britain's most popular universities with more than 23,000 students and a 1,000-strong academic staff.
University of Bristol
The University of Bristol is internationally renowned, ranked in the top 30 universities globally (QS World University Rankings), due to its outstanding teaching and research, its superb facilities and highly talented students and staff.
The British Film Institute
The British Film Institute is the UK's lead film organisation. Its mission to achieve a creative and prosperous film culture and industry base, the BFI drives creative, economic, and cultural success through a linked portfolio of activities.
TLT Solicitors LLP
TLT Solicitors LLP is a top 100 UK commercial law firm with over 650 staff across offices in Bristol and London and is consistently rated as one of the top 3 technology and IP firms in the South West. It has strong relationships locally and nationally and is well known for its work across the technology & media sectors. It has a long-standing commitment to the development of the creative industries in Bristol, having provided support to Watershed through direct sponsorship and pro bono advice since 2002. TLT advised Watershed on the creation of iShed CIC and Pervasive Media Sandbox.