Posted on Thu 23 Oct 2008
---
e-Shed at PM Studio
e-shed steering group are now meeting regularly at the PM Studio on Thursday afternoons. At the moment they're working with Tim Crawley (e-shed co-ordinator), and me to put together this year's Electric December which will…
Posted by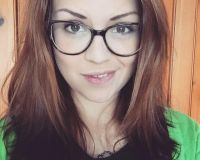 Rosie was the Pervasive Media Studio Assistant between 2015-2017.
---
e-shed steering group are now meeting regularly at the PM Studio on Thursday afternoons. At the moment they're working with Tim Crawley (e-shed co-ordinator), and me to put together this year's Electric December which will include short films made by young people from Bristol, the south west, other parts of the UK, and for the first time, a number of other European countries. This new element to ED is being achieved via links forged by Maddy Probst at Watershed, with other organisations which are also part of the Europa Cinemas network, to celebrate 2008 as the European Year of Intercultural Dialogue. It's also a great way to mark ED's 10th appearance!
What should be happening this week, is that all the films promised by organisations who work with young people, would have arrived and the e-shed steering group, with us adult supporters, would be sitting down with a box of popcorn or 3 to select the 24 films that will appear in ED. However, the deadline has come and gone and though we do have a fair number of films we're still getting phone calls and e-mails explaining why things haven't arrived, or why they're in the wrong format or why they've not sent the forms, or, when they've gone completely quiet we're chasing them - not quite getting 'the dog ate my film' excuses but almost! But hopefully we'll be doing that by next week, so this week we'll start planning the December 1st launch event at Watershed - with a 'Euro' theme? We'll see!
So what's this got to do with 'Pervasive Media'? Well, not a lot directly (apart from the fact that you'll be able to Blutooth ED films to your mobile during December at Watershed and download them in podcast form). But what happens when the e-shed team come to the studio is that they begin to find out some of the projects that are going on here, meet some of the studio residents, get the chance to learn how to make mscapes, and play on Guitar Heroes or Geometry Wars! So, hopefully their visits here offer a route into some areas of work they may not have considered before, and they seem to like coming to the PM Studio too!
We'll keep you posted on ED progress and anxiety levels in the build up to the launch!
Posted by Liz
---