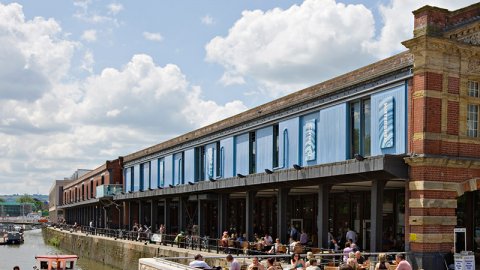 Privacy Policy for Watershed Group
Last Updated: 27 November 2023
Purpose of this policy
We are committed to protecting your personal information and being transparent about what information we hold about you.
The Watershed Group of companies (Watershed) – listed below – offer a range of services, transactions and communications which requires the processing of your personal data.
Using personal information allows us to provide you with relevant and timely information about the work that we do and to develop a better understanding of our audiences. As a registered charity, it also helps us to engage with potential donors and supporters.
The purpose of this policy is to give you a clear explanation about how Watershed collects and processes your information.
We use your information in accordance with all applicable laws concerning the protection of personal information. This policy explains:
What information we may collect about you
How and why we may use that information
In what situations we may disclose your details to third parties
Our use of cookies to improve your use of our websites
Information about how we keep your personal information secure, how long we maintain it and your rights to be able to access it
If you have any queries about this policy, please contact the Data Protection Officer at Watershed, 1 Canons Road, Bristol, BS1 5TX or email: datacontroller@watershed.co.uk.
Who We Are
Based in Bristol city centre our venue houses 3 cinemas, the Pervasive Media Studio, a café & bar and events spaces. Watershed develops cultural engagement, imagination and talent, in the belief that the route to better futures is open, disruptive and co-produced. With our audiences and participation at the heart of our organisation we produce and present original ideas and content and curate a diverse programme of talent development, cinema exhibition, events and festivals.
The Watershed group of companies consists of:
Watershed Arts Trust Limited
A company registered in England & Wales with no. 01608779 and a registered charity with no. 284188. VAT number 916 2531 38.
Watershed Trading Limited
A company registered in England & Wales with no. 01621620.
Watershed Ventures CIC
A community interest company registered in England & Wales with no. 06097013.
The registered offices of all three companies is 1 Canons Road, Harbourside, Bristol BS1 5TX United Kingdom, which is our main trading address.
Amendments to this Privacy Policy
We may revise and update this Privacy Policy at any time and will indicate at the top of this page when this Privacy Policy was last revised.
Please periodically review the Privacy Policy, as your continued use of our Sites and/or other Watershed services indicates your agreement with any changes that we make.
When do we collect information from you?
Generally, we collect your information when you decide to interact with us. This could include booking tickets online, over the phone or in person or it could be when you sign up to receive emails from us. We also look at how our audience use our website, so that we can offer the best possible experience whether you're booking tickets or just trying to find out more about what's on.
We collect information when you:
book tickets through our box office in person, over the phone or online;
donate or provide sponsorship to us, or meet to discuss potential support you may give;
subscribe to any of our mailing lists;
register for a loyalty card;
use the interactive sections of our Sites;
hire one of our rooms or cinemas;
when you report a problem with our Sites;
attend a meeting, event or workshop;
make a table booking, register lost property or complete a comment card;
enter a competition
What information do we collect about you?
The personal data we collect about you varies depending on the service you request from us.
When you book tickets, or hire one of our rooms or cinemas we may collect:
Name
Email address
Address
Postcode
Contact phone numbers
Age / date of birth
Payment card details. (Please note, we will not hold payment information for any longer than it takes to process your transaction. All debit and credit card information is processed securely, and in accordance with the Payment Card Industry Data Security Standard (PCI-DSS))
Access requirements
Purchase history
Organisation
Names of other attendees
In addition to the above, when you donate we may also collect:
Bank details (to process direct debits)
Gift Aid status
Donation history
When you make a café table booking, register lost property or complete a comment card we may collect:
Name
Email address
Contact phone number
Information obtained through cookies*, when you use our website, or engage with our emails:
Web browser type and version
Type of device
Operating system
Web address you arrived at our site from
Length of visit
*for more information please refer to our Cookies page.
Other information we collect
Correspondence
If you correspond with us generally, for example to raise a query, comment or complaint about any of our services, we will also collect any other information you choose to send to us in that correspondence.
Postal Address
If you register on our Box Office system we give you the option to include your postal address to speed up future transactions.
If you donate to Watershed, we will also ask for your postal address for the purposes of administering any Gift Aid contributions you elect to provide, to keep you up to date with how your gift makes a difference and to let you know about future opportunities to support Watershed.
We may also collect your postal address in order to send you occasional mail informing you of upcoming events, developments and ways in which you can support us (you will always have the option to opt out of this).
Telephone number
When you book tickets for any of our events or screenings we will collect your telephone number so that we can contact you in case of changes to the programme.
We will also use your telephone number to contact you with regard to loyalty cards applications, competition entries, table bookings or lost property.
Age/date of birth
We store this information if you purchase a 24 and under ticket or a 60 and over ticket to any of our events or screenings.
We will also request information on the date of birth of your child if you book a ticket for any of our Cinebabies events as proof that you and your child are eligible to attend such events.
Access requirements
Watershed is committed to making everyone's experience as accessible as possible. We securely collect and store these on our Box Office system in order to provide you with the best possible customer experience, and to ensure we can meet any requirements you may have in relation to access.
Payment details
When you buy a ticket or donate to Watershed, we will collect payment information from you such as credit or debit card details or bank information for the purposes of taking payment or setting up a direct debit through our third party providers.
All debit and credit card information is processed securely, and in accordance with the Payment Card Industry Data Security Standard (PCI-DSS)
Allergy & dietary information
If you hire us for an event and you use our catering services, we may also collect allergy and dietary information about you or your guests attending the event. This information will only be used for the purposes of facilitating the catering for your event.
Data control
Watershed is the data controller for all data we collect and store.
We collect personal information through a number of different ways when you choose to interact with us, all of which are subject to strict data security processes to ensure your personal information is kept safe at all times.
In addition we use the following data processors to enable us to collect, process and securely store the data we obtain.
We use Patronbase to process all ticket bookings, purchases and some donations
We use Mailchimp to manage our email communications
Any data processed on behalf of Watershed is processed only to the extent required by them to perform the services that Watershed requests. Any use for other purposes is strictly prohibited within a data sharing agreement between us and the provider. Furthermore, any data that is processed by third parties must be processed within the terms of this policy and in accordance with the United Kingdom Data Protection Act 2018 and General Data Protection Regulation 2018.
We also use services where your data is primarily subject to their privacy policy, where those services then share your data with with us (if you have not opted out to them doing so) at which point it is processed in accordance to Watershed's privacy policy:
Why we collect your personal information and how we use it
We use information in a number of ways, the main ways being:
because it is necessary to administer the services you have requested from us and to fulfil our obligations to you in providing these services; or
to inform you by email or other means of similar events or services run by us which we think may interest you; or
in the case of our profiling (see below) in order to pursue Watershed's legitimate interests in raising funds. Where we process your personal data on this basis, we will only do so where it does not prejudice your own privacy rights.
Specifically we use your information in the following ways:
To carry out our business and to provide a service or carry out a contract with you:
To fulfil ticketing and/or donation requests (including confirmation of your booking or donation by email and/or letter)
Process payments (Please note we do not store any Credit Card or other payment information once the transaction has been completed).
Provide the best possible customer services and to help us with our internal administration.
Contact you with important information relating to your booking or donation, such as confirming your order, reminding you of an upcoming event you've booked for or letting you know about updates to event details.
Where we have your consent:
Send you updates via email about what's on, news or about supporting us.
Email you about a specific area you've requested to hear more about such as our accessible programme or other projects.
Share your details with other arts organisations whose work you may have seen at, or in partnership with Watershed. This will be limited to name, email address and booking details for event linked with the partner organisation. You will always be able to opt out of their communications by contacting them directly.
Where we have justifiable reason (including legal obligation and legitimate interest):
Analyse your booking history in order to learn about your interests and preferences to help us target our marketing communications so that they're more relevant to you.
Send you occasional mail informing you of important news and how you can support Watershed
To keep you informed of how your donation is helping to support Watershed, to invite you to special events and inform you of details of how you can continue to support Watershed.
For classifying our audience into groups or segments, using booking and publicly available information. These segments help us to understand our audience better and ensure we're sending relevant messages to each group.
Measure and understand how our audiences respond to a variety of marketing activity so we can ensure our activity is well targeted, relevant and effective.
To contact you to ask you to participate in audience research. You are under no obligation to participate in research and, should you provide any further information, Watershed will inform you how any further information will be used. All information gathered for research purposes is anonymised and aggregated for analysis.
Analyse and continually improve the services we offer including our programme, our website and our ticketing service.
To keep our database accurate and relevant, for example, using National Change of Address.
To inform you of any changes related to your booking
The use of CCTV recording equipment in and around our premises for monitoring and security purposes.
Undertake due diligence to detect and reduce fraud and credit risk.
To analyse the way in which our website is used and the content and links that you interact with, in order to improve our website services
To store saved online ticketing orders as you navigate around the website
To analyse the way in which our emails to you are received by you, and the content and links that you interact with, in order to improve our communications with you.
To help diagnose and manage the website, to audit the geographical make-up of users, and to establish how you have arrived at the website (this is through your public IP address which is a unique number which allows a computer, group of computers or other internet connected device to browse the internet. The log file records the time and date of your visit, the pages that were requested, the referring website (if provided) and your internet browser version)
For a small number of our audience, where we want to better understand people's engagement with Watershed and their potential interest in supporting us further:
Before contacting a small number of individuals we may seek additional information including Watershed booking and connections, business network information and publicly available information relating to: residential location, wealth and assets, family*, career, donations to other organisations (including political parties where they are made public by the individual) and hobbies and interests to create a profile of their interests and preferences. This helps us understand the background of the people who may choose to support us and helps us to make requests for gifts to those who may be able and willing to give. We may also use publicly sourced images to help identify individuals who attend our special events.
* This does not include information about children unless given personally by the individual concerned.
We use a number of different sources to aid us in our fundraising activities, including newspaper websites and archives, housing market websites and the electoral roll as well as official websites of companies, charities and other arts organisations. In addition to general use of the internet we also make use of company, director and shareholder information from publicly available information providers.
Who do we share your information with?
We don't sell your information.
We don't share the information that is provided to us except:
with third party service providers, such as hosting providers or an email service provider, who provide services to us so that we are able to fulfil our obligations to you or, where we are able to send you marketing information, to do so;
if you have donated money to us and have notified us that you are registered for gift aid, we will share your information with HMRC and the Charity Commission for the purposes of administering this;
if you have requested that you be added to a marketing list of any of our partners we are running, or have run, an event with during the booking process for that event;
if we have a legal obligation to disclose your information (for example, if a court orders us to);
if another company buys our company, or if we go insolvent, or if we merge with another company, in which case the company that receives your information will protect the information in the same way we do. If we transfer our obligations under our terms of use to another company, this may mean that we need to transfer your personal data to that company. We will contact you to let you know if we plan to do this. If you are unhappy with the transfer you may contact us to end your contract with us within 30 days and if you do so, we will not transfer your data to that company.
if we run an event in partnership with another named organisation we will also share information with that partner to enable it to report to funders and inform audience development strategy. Any data shared for these purposes will be in an anonymised and aggregated form.
How do we protect your information?
Watershed is committed to ensuring your personal information is secure at all times. We store and process your personal data securely using suitable physical, electronic and operational procedures to safeguard and secure all personal information. We will ensure that any third parties we use for processing your personal data do the same. We limit internal access to your personal data to only those who require it, and provide all our staff with Data Protection and Information Security training. We ensure that high standards of security and protection are met by abiding by our Data Protection Policies and Procedures
Watershed may transfer your data to USA based organisations such as Mailchimp (which we use to manage our email communications). The USA has weaker data protection laws than that of the EEA and we will ensure that we only use organisations who are a part of the EU privacy shield initiative to handle your personal information, therefore ensuring your data rights are maintained. More details on this certification can be found at www.privacyshield.gov/welcome
We keep your personal information:
For as long as we need to for the purposes for which it was collected or,
(if longer) for any period for which we are required to keep personal information to comply with our legal and regulatory requirements or,
until you ask us to delete your personal data, in accordance with your rights below.
We will not keep more information than we need. The retention period will vary according to the purpose, for example if purchasing a ticket only, we will typically keep your data for up to six years from the date of your last transaction whereas if you have pledged a legacy to Watershed, we will hold your details until notified by your executors. For further information about how long we will keep your information, please contact Head of Data & Operations using the contact details outlined in this policy.
We will assess the personal data that we hold on a regular basis to determine its relevance and destroy your personal data if we no longer require it or no longer provide any services to you.
If you ask us to stop sending direct marketing communications to you, we will keep the minimum amount of information (e.g. name, address or email address) to ensure we adhere with such requests.
Your rights and how to contact us
You should find it easy to access and amend the personal information that we hold on you, or request that we stop contacting you. It's your data and we want to make sure you feel in control of it.
If you have an online account with us (if you have booked a ticket online), you can amend your personal details and email contact preferences at any time. Sign in through our ticketing pages, and click 'Your details' on the left hand side of the screen.
In addition, every email we send to you will include details on how to change your communications preferences or unsubscribe from future communications.
If you prefer, you can contact us by phoning, emailing, or writing using our contact details below.
You have a number of rights in relation to your personal data. These include the right to:
find out how we process your personal data;
request that your personal data is corrected if you believe it is incorrect or inaccurate;
obtain restriction on our, or object to, processing of your personal data;
ask us not to process your personal data for our own marketing purposes;
withdraw your consent to our processing of your personal data; and
At any time you have the right to ask Watershed to amend or stop how it uses your personal information including for marketing purposes.
You have the right to request details of what information we hold about you. We will take steps to verify your identity before responding to your request and will then respond as soon as possible but no later than within a month. Please send a description of the information you would like to see, together with proof of your identity to datacontroller@watershed.co.uk
You have the right to get information held about you by us corrected. If you have any concerns about the accuracy of your personal data, please let us know using the contact details below.
At the end of your relationship with us you can ask us to delete your personal data and we will do so as far as we are reasonably able and subject to our legal requirements to retain such data. You can also request that we provide you with written confirmation of the deletion of your personal data, which we will provide if we have deleted that data and can provide evidence of this.
You have the right to lodge a complaint with the supervisory authority, The Information Commissioner's Office – www.ico.org.uk
If you would like to exercise any of your rights outlined in this policy or have any concerns or questions about the way in which Watershed handles your personal data, please contact us –
Watershed
1 Canons Road
Harbourside
Bristol BS1 5TX
United Kingdom
Email: datacontroller@watershed.co.uk
Telephone: 0117 927 6444
Third party links
Our Sites may contain links to other sites and resources provided by third parties. We have no control over the contents of those sites or resources.
If you use any third party sites or resources linked from a Watershed site, their rules and policies will apply and you should always check these before you submit any personal data to them. We do not accept any responsibility or liability for these policies.
This privacy policy applies solely to information collected by Watershed.
Our websites
The websites that this Privacy Policy applies to are:
Cookies information
You can find out about what cookies are set when visiting our website and how to manage your preferences on our cookies page.
---