Article
Posted on Fri 29 Jul 2016
---
Food glorious food
In the Pervasive Media Studio we are always thinking about food, but then who isn't?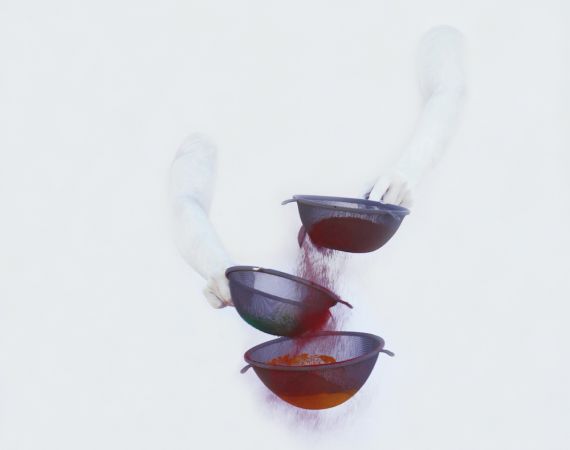 Posted by
Bristol+Bath Creative R+D Producer
---
There are few truly universal experiences in life, food is one of the few things that we all have in common, and yet everyone's experience of food will be unique. Celebrations, holidays, festivals and rituals are often centered around feasting. Food is a common language across all cultures, countries and even species - although it is interpreted, prepared and consumed in a myriad of ways.
Food gives us a way of thinking about survival, health and growth; it can frame our understanding of global trade, economics and farming; of biology, chemistry and our relationship to the natural world.
The michelin star restaurant; often viewed as the ultimate dining experience; is reserved for those who can afford it and surrounded by invisible rules of ettiquete and dress codes. In recent years, alongside rapid developments in science and technology, there has been an extraordinary reimagining of what is possible. Marshmallow Laser Feast have partnered with Heston Blumenthal to develop a new dining experience in virtual reality. Damien Hirst has opened an art restaurant; Pharmacy 2, and Bombas and Parr created fantastical jelly installations.
Studio Residents James Wheale, Jasmine Creusson and Sabrina Shirazi are developing projects exploring the world's rarest chocolate, colourful dining experiences, sensory taste experiments, bone conducting gobstoppers and forgotten foods (to name a few). We thought you might like to hear what they've been up to and perhaps inspire you try out some simple food experiments in your own kitchen.
Cocoa & Honey Spoonful
James Wheale is an artist, poet, maker and cook whose work fuses storytelling and food. James runs Understory, a chocolate company that fuses the two great oral traditions - storytelling and eating. He is currently producing a documentary about the world's rarest cacao, you can watch the Chocolamentary trailer here. We asked James what excites him most about food, this was his answer:
Food is the ultimate art form because it is wholly reliant on experiencing the present. A chef must create everyday, unable to dine out on a single painting's success, rather the painting must be made from scratch every shift. It is necessity, engineering and passion; the creativity behind life itself.
Try James' delicious recipe for Cocoa & Honey Spoonful at home:
Listen to this accompanying music:
Forgotten Food Facts
Jasmine Cruesson is a visual artist and chef who recently joined the Studio on a micro-residency to explore how food is considered and valued within contemporary society - why are oysters a rich man's treat, and why have medlars fallen off our menus? Jasmine said:
Whether it's to share the craft of cooking or just the taste of something that stimulates a smile, my main interest in food is to create a "foodie" experience with as many people as possible. I am very much excited about evoking an artistic experience that uses all five senses at once, something that food achieves effortlessly every day.
Read Jasmine's forgotten food facts, what food would you like to see back on our menus?
What does a cymbal taste like to you?
Sabrina Shirazi is an artist and designer who produces visual art and textiles inspired by colour, unconventional behaviour and play. Sabrina was awarded Watershed and At-Bristol's first Food Residency this year to develop OPUS, a project exploring the relationship between taste, sound and imagery. Sabrina is excited by food because:
Food is for everyone across all spectrums and walks of life. It's a trigger of memories, it's what keeps us going and it's a form of enjoyment. Everyone has an opinion about food and it's a charged topic of conversation. Moreover, eating isn't a flat action - it sparks sensory engagement.
What does a cymbal taste like to you? Try Sabrina's DIY experiment yourself:
Listen to the accompanying cymbal below:
What do you think?
We think food is a conversation starter. Tell us what you think about James, Jasmine and Sabrina's recipes, facts and experiments in the comments section below or tweet us @PMStudioUK.
---