Lunchtime talk write-up
Posted on Fri 10 Feb 2017
---
Half Baked
What happened when we opened a forum for early ideas?
Posted by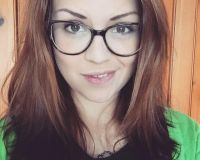 Rosie was the Pervasive Media Studio Assistant between 2015-2017.
---
What is Half Baked?
Our Half-Baked public forum (as part of our Lunchtime Talks programme) is a platform for barely-formed, super-early ideas, projects, prototypes, games, experiences and experiments.
Why do we do it?
At the Studio, our tried and tested method of introducing early ideas in a pressure-free environment often leads to improved outcomes. Our residents regularly utilise their community by subjecting them to their super-early ideas, projects, prototypes, games, experiences and experiments. We wish to extend the opportunity to our Lunchtime Talk audiences who, as we well know, work on some really exciting projects themselves. Our Half Baked format was born with this in mind: a session that invites members of our extended community to reap the benefits of the open and generous environment afforded to us here in the Studio.
Simon Johnson's Global Goals game
Resident Simon Johnson used the time to road test an in-app game he's been developing for the UN Conference happening in Bonn this May. Half Baked provided him with the largest group of people he's yet tested with, so the interactivity between players was much more akin to the large end-user group than his previous test players.
Tom McDonagh's 3D Shadow Puppetry
Another resident, Tom McDonagh, shared with us some early developments with unusual optics. He posed questions to the audience to find out where people could imagine this art being situated.
How did it feel?
The inclusion of more critical voices and, ultimately, end users, is invaluable. The session was a fun reminder of the role of the end user/audience in the development phase, and how meaningful being a contributor can feel - particularly at an early and influential stage. 
We look forward to organising repeat sessions throughout the year. Keep up to date with our forthcoming programme of events by joining our newsletter mailing list or following us on Twitter.
---