Studio blog
Posted on Thu 7 May 2020
---
Experiments in Warholian hotdoggery and more...
It all started with a humble hotdog. A hotdog Snapchat Lens to be precise. This was last summer (before the great unmentionable). As a trio of creative technologists, we instinctively dive into exciting technology to…
Posted by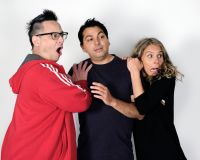 Tiny Giant are an eclectic trio of creative technologists who fuse bold ideas and emerging tech to help businesses stand out.
---
It all started with a humble hotdog. A hotdog Snapchat Lens to be precise. This was last summer (before the great unmentionable). 
As a trio of creative technologists, we instinctively dive into exciting technology to understand what it is, what it does and how we might use it in our work.
We are a business with paying clients, but equally we occupy a spot at the intersection of the commercial and creative industries. 
This is what makes the Pervasive Media Studio the perfect home for us. But it also means we endeavour to execute ideas that stir the emotions and create joyful surprises. Guess what? Tech can significantly help with this.
Efficiency is all well and good, but effectiveness is where our collective hearts lie. Hence the initial AR experiment in Warholian hotdoggery.
Derek Ahmedzai, our Technology Director, created it to understand the workings of Snapchat's custom AR toolkit. He enjoyed making it. We all agreed it was fun. 
He placed it into the world by publishing through Snapchat's Lens Studio and off it went. No noise. No hoopla. No marketing push. Just an innocent AR lens bravely stepping out into the  big wide yonder. 
By the end of August, the analytics revealed it had garnered over 20-million-plus interactions. (It currently sits on over 25 million views alone.)
This got our attention. To this day, we're not entirely sure what caused its virality but that doesn't stop us from speculating.
Suitably emboldened, we've spent the best part of nine months creating dozens of custom lenses and filters for clients and causes.
A note to you, sweet reader: Instagram call them filters, Snapchat call them lenses. Although Snapchat also have filters… but they're not the same… What? Yeah, we know. Let's just move on.
So what have we discovered? Here are four tiny windows of wisdom to gaze through.
Surprising reach
If you build it, they will come. Yes we've made custom filters and lenses for brands and business. This means there's marketing moolah to trigger the audience. But you don't necessarily need big bags of marketing spend to get noticed. A timely idea often leads to uptake all by itself. 
For example, we recently created a 3D Egg lens on Snapchat to coincide with Easter. We quietly rolled it out without fanfare. (See what we did there?) 
It currently sits on 645,000 views and 505,000 plays. It's a colourful ovid shape. On your head. It was of its moment. The thing is there are lots of mobile phones in the world with the Snapchat app on them. That's the how of it. No need for analysis paralysis.
When it's a no-no
Both Instagram and Snapchat have rules and regulations for what you can and can't publish. 
For example, Instagram doesn't allow any visual association with alcohol, drugs or firearms. Sounds sensible. Snapchat is a little more relaxed on the alcohol front, but also has a stringent set of yays and nays. 
Also, Snapchat lens publishing happens instantly - offending lens removal taking place retrospectively - while Instagram has a dust-gathering, soup-cooling period before your filter goes live (up to 10 days!).
Recently amid the pandemic, we created a bunch of Snapchat lenses to showcase thoughtful behaviour: hand washing, physical distancing, being a good neighbour and so on. 
One of our bright ideas was a 2D Toilet Roll face to highlight to the shoppers of the world not to panic buy. In three days, it achieved over 700,000 downloads. Nailed it we thought! 
Day four it was removed by Snapchat. It seems the idea of a toilet roll with eyes and a mouth is considered offensive in some quarters. Who knew?
Still image, moving image...
It's easy to think of lenses and filters as merely playful layers on a selfie. A still image. However, mobile phones are tools of the gods.
They shoot high-quality video. This means sound and movement. Now that's exciting in terms of messages, storytelling, engagement and more. Let's see what ol' Gold Face has to say about this...
Also, with custom filters and lenses, you don't have to obsess with applying layers on a face. You can also project onto the world through your mobile responding to a trigger (for example: a logo, a surface or a pattern).
Above is an AR scented candle we created for April's Fool's Day (We didn't run it because pranks and japes didn't feel right on said day this year.) 
The idea was people used the lens to place the candle into the room of their choice and it would give off a pleasing aroma of cinnamon, sandalwood or tonka bean. (SPOILER ALERT: it didn't - that was the joke.)
The point is the 3D candle looks realistic, and can be sized and positioned in any setting with a couple of cheeky phone taps. Such playful dexterity was unthinkable not so long ago.
Is AR right for you?
Hmm… let's think about that… hold on… er, yes! 
If you have a story to tell, you can weave an AR filter or lens into the mix to gain attention. 
Take the BBC. We recently created a lens to support their The Big Night In TV show to help raise funds for Comic Relief and Children In Need. 
The onus for us was on speed and simplicity. We had 72 hours to conceive and create it. In the end, after a variety of 2D and 3D experiments, we opted for the event logo as a face paint lens. 
End result: a nifty digital augmentation to support the main event, spread the word and raise a smile across the nation. Fuzzy tingle, anyone?
The fact is if you use your noodle, the filter or lens you create can BE THE STORY.
Ultimately, like all great digital tools, you're only limited by the degree of cool thinking you apply to using them.
The possibilities are infinite.
We say get stuck in. Learn the ways. Try some out. Create your own on Snapchat's Lens Studio or Instagram's Spark AR. There are lots of templates to get you started.
Having had several years languishing in the hype-curve doldrums, augmented reality is gaining serious traction again. 
The vast array of filters and lenses in the hands of mobile phone users is playing a significant role in building this momentum. 
It's creativity unleashed. Go play! 
A Hive Of Handy Links
A Twitter thread of Tiny Giant AR examples: https://twitter.com/wearetinygiant/status/1257728212857167882
Snapchat's Lens Studio: https://lensstudio.snapchat.com/
Instagram's Spark AR: https://sparkar.facebook.com/ar-studio/
Facebook's Spark AR community: https://www.facebook.com/groups/SparkARcommunity/
Reddit's Snapchat community lenses: https://www.reddit.com/r/SnapLenses/
Tiny Giant's Snapchat lenses: https://lensstudio.snapchat.com/creator/r5dMHwm2xtTmaRII7LYtng
---