Posted on Thu 26 May 2016
---
Juneau Projects Report: From 'Collaborating with Thinking Machines' to 'Emergent Behaviour'
Background:We are Philip Duckworth and Ben Sadler, a collaborative duo who work under the name Juneau Projects. We work in a variety of media including painting, sculpture, animation, installation,…
Posted by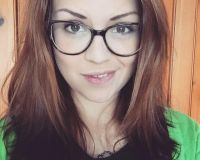 Rosie was the Pervasive Media Studio Assistant between 2015-2017.
---
Project
Artists Ben Sadler and Phil Duckworth of Juneau Projects were resident at the Pervasive Media Studio, investigating the artistic possibilities of collaborating with 'thinking' machines.
---
Background:
We are Philip Duckworth and Ben Sadler, a collaborative duo who work under the name Juneau Projects. We work in a variety of media including painting, sculpture, animation, installation, performance and music.
We saw the Watershed residencies advertised on the Arts Council Jobs List. We have always had technological elements in our work, but we are not experts, so the opportunity to develop a project that focused on technology with the help and support of experts in the area was very attractive to us.
It seemed that Pervasive Media Studio were looking for artists to explore an idea or project through research and collaboration and develop new approaches to their existing ways of working. We were excited about this and approached our application accordingly. We decided to focus our application upon exploring an area that was quite new to us, that of Artificial Intelligences, and to look at how we might further our collaborative practice through working with forms of Artificial Intelligence.
We were expecting that the residency would offer us a period in which to develop our thinking about what Artificial Intelligence is and to explore the possibilities of how we might realistically collaborate with thinking machines. The residency more than lived up to our expectations, allowing us to develop our understanding of AI and, through this understanding, determine that what we were in fact interested in was the concept of emergent behaviour. This in turn allowed us to realise an outcome to the residency that we were very happy with.
The project:
We worked through a number of ideas throughout the residency. Our initial experiments in collaborating with Artificial Intelligences produced a number of results with varying degrees of success.
We initially focussed upon experimenting with how we might collaborate with online chatbots such as Cleverbot. We hoped, through talking to Chatbot, to develop suggestions for artworks. The most successful collaboration with Cleverbot was on a painting entitled 'You'll Never Believe Anything Again' (fig. 1). The content, colours, size, title and medium of the painting were determined through conversation with Cleverbot.
In tandem with these experiments with Cleverbot we also looked at developing an application that took as its premise the idea of a virtual beetle that would explore the content of a computer's laptop and leave visible traces of it's movements. We worked with Dan WIllliams on developing this. The idea moved from having a realistic looking beetle that would wander about on screen to being a program that would look at mages on your harddrive and alter them somehow. The end result of this was an application called 'I am the Beetle' which wrote the phrase 'I am the Beetle' in Impact text upon photos on your computer (fig. 2). The application was a fun thing to make and use but it became clear it would not be our main focus for the project. We have archived the project on our website: http://jpartistspages.tumblr.com/

fig.1 'You'll Never Believe Anything Again', 2012, 16cm x 10cm, Acrylic on Paper

fig. 2 'I am the Beetle' example image
While working on the ideas above we met with a number of residents at PMS and more fully developed our thinking in terms of what it was we were interested in. Our conversations with Ad Spiers and Tarim in particular were very helpful in clarifying our research. Our focus shifted to looking at the idea of emergent behaviour in machines. This in turn led us to developing a robotic drawing arm with Ad Spiers.
The robotic drawing arm we prototyped with Ad embodied many of our initial aims and objectives i.e. to develop a collaborative working method for artistic production with a machine but shifted the focus of our initial idea (that of the machine providing ideas for us to make) and refocused it upon creating a machine collaborator through which we could explore technique and style. The nature of the robotic arm's construction meant that both in terms of software and hardware construction the arm's drawing style would have a unique quality, never quite repeating a drawing exactly in terms of the lines it produced. This proved to be a very welcome outcome for us. Part of our inspiration for the project was our collaborations on paintings with children, in which children had painted versions of images we had created. We very much liked the results that these collaborations produced and felt the robotic arm was a great step forward in terms of exploring how we might further develop this way of creating drawings and paintings.
Once the idea for the drawing arm was in place the project moved forward very quickly. We made a number of prototypes of the robotic arm, first from wood (fig. 3) and then Perspex (fig. 4) but did not test these publicly in a formal context until the final showcase event, in which we displayed our finished working prototype of the arm (see fig. 5). Informal discussions with people while developing the arm at PMS were very positive and encouraging and led us to think more about the construction of the final robotic arm and how this mechanical element was very important in terms of giving the arm its signature style. The continual testing and development process with Ad Spiers was really valuable and being able to continue this relationship with Ad has been great.
The open, experimental process that we encouraged to pursue in the residency in terms of testing and investigating our ideas was very welcome and useful. It is not a manner in which we have worked much before but we really enjoyed it. The development of ideas with Victoria Tillotson and Dan Williams throughout the project was incredibly helpful and being able to draw upon the wealth of knowledge available at PMS was brilliant. Rather than seeming to be a challenge this way of working proved to be really refreshing and very useful.

fig. 3 robotic drawing arm prototype I

fig. 4 robotic drawing arm prototype II

fig. 5 robotic drawing arm final prototype
Working practices:
It was incredibly helpful and inspiring to be part of the Pervasive Media Studio community. The open nature of the studio was really refreshing and allowed our project to develop in ways that just wouldn't have been possible for us normally.
The residency events were a useful aid in terms of structuring our project, giving us achievable goals and deadlines to work towards and also allowing us to share our progress and receive instant feedback. The events were also really good in terms of raising awareness of our project amongst the other studio residents, which was very helpful when looking to discuss aspects of the project with people subsequently and also in terms of people approaching us following the advice with suggestions and advice.
It was good for us to document our project online through journal entries. We are not natural bloggers so weren't as active in terms of our journal entries as we might have hoped but making regular entries was a useful tool in terms of reflection on the project's progress.
The support from Watershed and the Studio team was brilliant. We really enjoyed meeting with Victoria and Dan regularly to discuss the project's progress – their input really helped steer the project's development in ways we hadn't expected but that were really welcome.
What next:
Following the residency we are currently exhibiting the robotic arm, now titled 'Bartleby', and some of the drawings it has made as part of our exhibition 'The Infocalypse Stack' at Ceri Hand Gallery, London (figs. 6, 7 & 8). We have continued our collaboration with Ad Spiers to realise this and are continuing to work with Ad on developing the way in which information is inputted into the arm. The collaboration with Ad has been incredibly fruitful and we really hope to continue this in terms of developing the arm as a within our practice.
We are currently also developing a project in Worcester looking at alternative forms of music downloads. We are making an album of songs, with each track being housed in a 'shrine' housed in a public space in Worcester. Each shrine will have a USB slot and when a flash drive is plugged into it the song stored on the shrine will be automatically copied to it. The idea for the work was definitely influenced by our time at Watershed. The development of the work was shaped by discussions about the idea with Victoria and Dan, who really helped us in terms of focusing our thoughts about the project.
Another interesting development resulted from a game we made for the Studio Christmas Party. We converted some hex bugs to create a robot reindeer game (fig. 9). This in turn has led us to developing some scratch built robot bugs that we have used as part of a musical performance, the bugs triggering sound samples as they scuttle around (figs. 10 & 11). The bugs are something we hope to continue to develop: we really like that a game we made for fun as part of the residency has fed back into our practice.
The residency has definitely influenced how we approach the development of an idea. The R&D process is something we hope to incorporate as much as possible into what we do.
The residency has resulted in us gaining new methods of working, which will have a really positive impact upon on our future practice. It has also led to a really valuable collaboration with Ad Spiers, which we hope to develop further. We have also made what we consider to be a very important artwork in terms of our practice development: 'Bartleby' realises a lot of ideas we have been thinking about for quite a while now and marks a significant step forward in terms of our artistic output.
We would wholeheartedly recommend the residency scheme to anybody. The Pervasive Media Studio is a great environment to be in and is a perfect opportunity to look both at a specific question but also at your practice as a whole.

fig. 6 'Bartleby', exhibited in 'The Infocalypse Stack' at Ceri Hand Gallery

fig. 7 'The Caller', one of the drawings by Bartleby displayed at Ceri Hand Gallery

fig. 8 Exhibition view, 'The Infocalypse Stack', Ceri Hand Gallery

fig. 9 Racing Robot Reindeer game developed for Studio Christmas Party

fig. 10 Noise bugs

fig. 11 Juneau Projects performing with the noise bugs
---