Posted on Thu 26 May 2016
---
Pre-Xmas Project round-up
We're in full festive mode now, christmas jumpers on etc. The last few weeks have been really productive though. things are in place to have the robot arm up and working in early January, complete with bespoke lasercut…
Posted by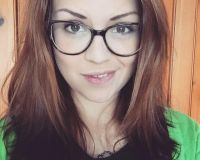 Rosie was the Pervasive Media Studio Assistant between 2015-2017.
---
Project
Artists Ben Sadler and Phil Duckworth of Juneau Projects were resident at the Pervasive Media Studio, investigating the artistic possibilities of collaborating with 'thinking' machines.
---
We're in full festive mode now, christmas jumpers on etc. The last few weeks have been really productive though. things are in place to have the robot arm up and working in early January, complete with bespoke lasercut perspex housing.
'I am the Beetle' is now up online:
http://iamthebeetle.tumblr.com/
and ever-growing!
We failed to post an image of the painting produced through our collaboration with Cleverbot, which we discussed in a previous post, so here is the painting, titled 'You'll Never Believe Anything Again' by Cleverbot, in its full glory:
Merry Xmas! We'll see you in the New Year!
---