Posted on Thu 26 May 2016
---
Preparing to listen to the sun
With less than three weeks to go until my showcase I'm preparing to turn my solar wind data into a physical sonic experience and 'listen to the sun'.
Posted by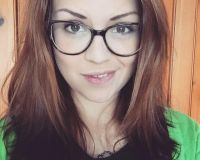 Rosie was the Pervasive Media Studio Assistant between 2015-2017.
---
Project
With media attention on solar flares and their effects on positive events (the northern lights) or predicted negative events (technological disruption), Helen White joined the Pervasive Media Studio in January 2013 to embark…
---
With less than three weeks to go until my showcase I'm preparing to turn my solar wind data into a physical sonic experience and 'listen to the sun'.
I'm not completely new to technology and therefore relatively unfazed by the challenges it throws up in a piece of design. But I have to admit I probably wasn't quite prepared for the challenge of generating a range of different frequencies, with the ability to trigger these either individually or polyphonically in a variety of combinations, according to a live data feed coming from a satellite an hour away from earth.
And I want it to look nice too.
So the past few weeks have been hugely focused on the technology, from 555 chips to AD9850 signal generators to arduino timer code, I've developed a whole new language and a broader understanding of the pros and cons of developing a tech solution, as well as a top ten countdown of the best tech to use for my solution, almost. Dan has been looking into the most robust approach to develop my prototype and coming up with a number of ideas, but there were still questions hanging over the number of arduinos we may need to use to trigger the twelve tones that I have decided to work with.
And then a very fortuitously timed lunchtime talk at the studio by Seb Magwick and Tom Mitchell introducing their x-OSC device, which turns out to be the technology I've been looking for, completely changed my direction and led to an exciting bit of collaboration, and saw my work being featured as a case study in their x-OSC paper. Two weeks later we have picked apart my design, made it function a whole lot better, and tested twelve tone generation. The resonance is stronger producing a clearer sound and we can introduce a controlled swaying movement. We've even been talking about incorporating lighting. This scope for development feels really exciting and it highlights the potential of all those fantastic chance conversations that happen at the studio.
All this talk about function leads me naturally onto form. It's been difficult to break away from the huge sculptural ceiling singing in time with the sun that's been the focus of my thoughts, but what I actually need to do is give myself a clearer idea of what the work could eventually become and find the best way to communicate this at the showcase. Basically I need to know if it will work.
The form has been tricky; working with just twelve tubes at this stage doesn't give you a lot to play with in terms of layout. But lots of drawing and cardboard modelling later and I have settled on a circular layout enabling the sound to travel around the design eventually creating a whole, rather than just moving up and down a scale.
\
Next I tested different fittings, needing to design in a level of adjustment so that I can balance each of the tubes perfectly within their magnetic field. After a lot more cardboard prototyping I decided to test a design in acrylic (huge thanks to Ad Spiers) and produced a housing for both the magnet and the tube that still gives me a level of flexibility as the design comes together.
I love showing off technology, I like to be honest about what's making the design function, and I also think that components and circuitry look quite beautiful. My future aspiration for this work would be to incorporate the circuitry into the housing and make it entirely part of the supporting structure for the aluminium.
Peter Vogel, Duo 2006, two speakers, photo cell, circuits, iron wire
Dreaming of the perfect prototype aside… My next step is to start streaming the solar wind data and testing code with Dan to trigger the twelve tones to correspond with any fluctuations. I don't think I've ever learnt so much so quickly as I have in the past two weeks and this experience will influence and change my approach to designing with technology undoubtedly for the better in the future.
---