Posted on Thu 26 May 2016
---
Sungazing and soundscaping
Two more weeks into my residency and I find myself gazing at the sun, experimenting with sound, considering my prototype, and a bit more science of course.
Posted by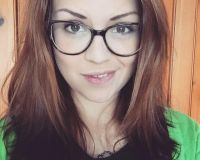 Rosie was the Pervasive Media Studio Assistant between 2015-2017.
---
Project
With media attention on solar flares and their effects on positive events (the northern lights) or predicted negative events (technological disruption), Helen White joined the Pervasive Media Studio in January 2013 to embark…
---
Two more weeks into my residency and I find myself gazing at the sun, experimenting with sound, considering my prototype, and a bit more science of course.
I've had the chance to get a little closer to the subject of my residency thanks to Lee from At-Bristol this week who very kindly loaned me a solar telescope. The weather hasn't been quite so fortuitous however, but a clear day on Thursday gave a good opportunity for some sun gazing. A somewhat blurry image, but could that be a sunspot to the right? 
I also had a fascinating conversation with space scientist Dr Jim Wild from Lancaster University who very patiently went through the data I have access to, explaining how all the fluctuations and combinations of fluctuations could manifest themselves (or not) on earth. This is about chance occurrences, and has reinforced my desire to bring the same elements of chance into my design creating varying sonic experiences.
On the subject of sound, and a source of inspiration to me over the past few weeks (thanks to Kathy Hinde), the artist Jacob Kirkegaard works with the vibrations and resonances within architectural spaces and builds up beautifully ambient soundscapes of these hidden elements. Described as unearthly; a quality I am looking for in my sonic interpretation of the solar wind?
I've found myself at the somewhat inevitable point of needing to make something in order to test both its reaction to the data and its sound, and even if I don't end up with the most resolved of design outcomes, I'll be able to test the functionality of the technology and consider how the work could be further developed. All the conversations I've had about the different types of sound wave, the different methods of tone generation, the different technologies that I could work with, are almost too numerous to test and yet have opened up a world of possibilities and expanded my knowledge more than I ever considered at the start of this process. I've been letting go my idea of the 'perfect' design solution that perhaps cannot exist in a three-month residency, and set about testing one idea that has been the most intriguing to me.
"Everything good precedes from enthusiasm. The sense of 'I really want to know how this turns out' will drive you on through many, many long nights of no results". Quote from Brian Eno by Alfred Dunhill
So here's my process so far:
Making the steel for the non-contact transducers
Cutting tube, finding resonant tone, and recording
Sound composition with Andy Spaceland, finding the harmonics in a microtonal series of notes. If the sun really is a giant pipe organ, I imagine it would create a sound far outside the constraints of the 12 note chromatic scale.
Finally, thanks also this week to previous studio resident and sound artist Mr Underwood, and electronic tinkerer John Honniball from Bristol Hackspace, who have both given up their time to talk about my ideas and the technology behind them. It's worth saying here that I've been continually inspired by the talent and generosity of both the studio residents and the wider creative network that this residency has given me access to. Next week I'll be working on the technology and the finished form of my prototype; plenty more discussions and decisions still to be made.
---