Posted on Thu 26 May 2016
---
Lincoln Green
Took IdeoBird v 0.5 to Lincoln University to show as part of a two-hour lecture on Magic and Experience Design. Did some Ideomotor experiments with the audience then IdeoBird read the mind of a new handler.What is interesting…
Posted by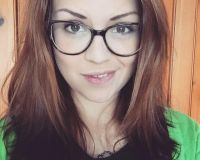 Rosie was the Pervasive Media Studio Assistant between 2015-2017.
---
Project
Meet Stuart Nolan's new pet the IdeoBird, a magical, mindreading creature. Held gently in your palm, the IdeoBird can sense the small subconscious movements of your hand and arms and so divine your secrets.
---
Took IdeoBird v 0.5 to Lincoln University to show as part of a two-hour lecture on Magic and Experience Design. Did some Ideomotor experiments with the audience then IdeoBird read the mind of a new handler.
What is interesting is that the handler felt the IdeoBird get heavier when held of the chosen object. I hadn't suggested that this would happen. The handler decided herself that the weight would change.
I want to do some experiments combining sensory suggestion with Ideomotor response as I think there may be a lot to learn here.
---