Posted on Thu 26 May 2016
---
Science Showoff 21st Nov
IdeoBird will be making an appearence at Science Showoff.
Posted by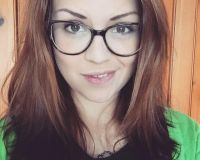 Rosie was the Pervasive Media Studio Assistant between 2015-2017.
---
Project
Meet Stuart Nolan's new pet the IdeoBird, a magical, mindreading creature. Held gently in your palm, the IdeoBird can sense the small subconscious movements of your hand and arms and so divine your secrets.
---