Posted on Thu 26 May 2016
---
Chloe Meineck's Research Report
BACKGROUNDI am Chloe Meineck a 22-year-old designer, maker and researcher based around Brighton. My work is multi disciplinary involves coding, electronics, designing, making, experimenting and hands on…
Posted by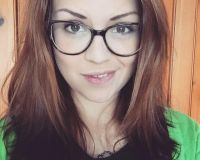 Rosie was the Pervasive Media Studio Assistant between 2015-2017.
---
Project
Music Memory Box harnesses the evocative power of music to create a tool for people living with dementia to recollect, reminisce and reconnect with loved ones.
---
BACKGROUND
I am Chloe Meineck a 22-year-old designer, maker and researcher based around Brighton. My work is multi disciplinary involves coding, electronics, designing, making, experimenting and hands on research with people. I graduated from Brighton University's 3D Design Course in 2012.
I heard about the Craft and Technology Residencies via Twitter. I was motivated to apply as the name, 'Craft and Technology' immediately interested me, as I was struggling with the work I had produced on my degree, as it was between the fields of art, design and technology. The description of the residency was like no other I had seen, rarely is craft paired up with technology and I especially liked the priority of research and experimentation over a finished piece. It sounded like a fantastic opportunity not to be missed.
The proposition was for research and experimentation into embedded technologies using an open approach on a new or existing project. I applied to develop one of my ongoing projects - The Music Memory Box - for people with dementia.
The Music Memory Box 1.0, is a bespoke box made from London Plane wood, that contains hand made trinkets in ceramic, gilding metal, silver, and various types of wood. Embedded inside these trinkets are RFID (Radio Frequency Identification) tags. These objects when put in the centre of the box, set off individual pieces of music. The box in its entirety was co-designed with the box owner, Barbara.
Through the use of a family tree diagrams and drawings we assigned specific stories to specific objects and poignant pieces of music. With multi sensory stimuli; remembering a person became easier, they were no longer a simple name, but they were an object, piece of music and most importantly a story to tell.
SUMMARY
My proposal for the application was to work within the host location to run workshops, to greater understand dementia and where my idea fits in, to understand how the older population relates to technology and to experiment with the idea of a communal music memory box.
I was not sure what to expect having never been on a residency before or lived in the countryside. The experience has been great. For me, especially, meeting and getting to know the other residents, and learning about their different practices and how mine differs in some ways, but also correlates in others. Working with Heidi and Patrick has made me think about my own project in different ways. With Patrick I have learnt about the product and commercial side, with the extremely technical brief he set himself to complete. With Heidi I have learnt about the importance of the core concept and ideas behind the work driving it in so many interesting and valuable directions.
Living and working within the Cornish community I have had hands on experience working with people with dementia in different care settings and at different stages of dementia. It has been emotionally challenging and difficult especially saying goodbye (for now), to the people I have been working with as they have helped me and contributed to my project so much. My knowledge and experience of dementia has increased considerably in this short time and this has made me even more passionate about dementia and the part my design work plays in this field.
Thirdly it has been great to work with Katie Bunnell and the Academy for Innovation and Research at Falmouth University and meet so many interesting people that are at the top of their specific fields and to get the chance to pick their brains.
THE PROJECT
I mainly focused on the idea of the communal music memory box, for groups of people in care homes, day centres and memory cafes. In the communal music memory box, each person is one object. I learnt that the main thing I wanted to promote using objects and music, was a sense of identity for each person. In a time where people can be confused about who they, where they are, who is around them, it is great for a familiar piece of music and a familiar object to ground them once again.
Trinkets:
The sessions I ran ranged from music therapy sessions to painting sessions. In the music sessions I tried to find that piece of music that made a particular person laugh, sing or cry. When I had found a song that a particular person cherished I then had to understand why and started building up stories to go along with the piece of music. Sometimes these stories immediately sparked an object they once owned, or a treasured memory of a pet. Next came the making of the object, which was difficult but rewarding taking into consideration peoples differing dexterity abilities. From the first session I ran, to the last, I learnt so much about dementia and the care system. Also with the more experience I gained the better the sessions became and the more this fed into the design of the box.
Box:
From running these music sessions I began to understand the complex trust relationships between therapists/carers and the person with dementia. I understood more that the box and its contents are the output of a longer series of art and music therapy sessions. From discussions and feedback from the work in progress events, I began to understand my desire and real aim was to make the project scalable. This can be achieved by the idea of a kit. The kit would allow people to make the most bespoke box possible, by selling a simple product with simple instructions that people can customise and personalise themselves.
The idea of a flat pack box came up, so I experimented with this using cardboard models and the laser cutter. The idea is that the box slots together, so people can construct their own box.
It has been fantastic fun in the workshops, working alongside the Autnomatic team sharing the developments of all their work, sharing tips on the laser cutter, sharing failures in workshops and also successes.
By looking at Bakelite radios from the 50s and Braun radios and record players I started to build a library of grates, graphics, buttons, and styles from different eras. This is an ongoing process. I would like the kit one day to have an online ordering system, where the person can choose what panels they would like the box to have, whether its an 80s inspired music memory box they want, or a grate of their own design.
Honeycomb speaker grate
Technology
One of my aims during the residency was to develop the technology from the Arduino used in the first box to the Raspberry Pi. This was because it was cheaper as the Pi has inbuilt sound. Also it allowed me more freedom and experimentation, I could connect it to the Internet, and think about networking the boxes. I feel some of my technology aims and experiments were tested within the time frame, but I have many more I will hopefully try after the residency with continued support from PM Studio and Tarim. In the future I would like to try networking boxes together, and getting feedback on a box's use. For example Bob's granddaughter could see how often Bob plays a particular object in his box that reminds him of her.
The system I developed on the residency, with help from my Dad, allows people to add new objects to the system. Meaning that the box can grow and be added to through out their life. The songs can be added via USB stick that is inserted into one of the side panels of the box.
With the box, the user also gets three swipe cards. + : When this is swiped the box speaks the instructions to add the new object to the box. - :When this is swiped the box speaks the instructions to remove the object from the box and a SHUTDOWN card, to shutdown the box.
Currently this is a 1:1 programming ratio, as mp3 has to be in a particular folder on the USB stick. I have just started working with Tarim at PM Studio, and we have been talking about how to improve my current system. Tarims upgrade will be that people can scroll through their music on their USB stick and when they here the music they want to correlate with an object then they use the add card. This means that in one session with the USB stick you could potentially program 10 objects in quick succession.
I really like the fact that the instructions to add more objects to the box are read aloud by the box. In future I would like all commands to be read aloud. For example when the music is uploaded, there could be a confirmation message.
I would say that my thinking has developed in a result of working with Tarim, as previously I thought I could get a fully functioning product out at the end of the residency. On reflection, one of the most useful discussions I had during my residency was with Victoria Tillotson and Tarim. We discussed my ambitions for the project and made some timeline drawings, about where the box is currently, where I want the box to go, and what would be helpful for me to show technology and object wise at the showcase. On the residency I was trying to develop the technology, develop the sound system, develop the design, manufacture and style of the box and finally to develop the sessions and instructions I would need for people to make or select their own objects and music. It has been really hardwork, but in this short time, I can see how much the idea has been progressed forward. And I cannot wait to get cracking on testing the prototype I have made on this residency, and making it better.
WHAT NEXT?
I will be moving back to Brighton and starting the Designers in Residence programme at the Design Museum. There are three other residents I am excited to meet and hear about their projects. This residency is to develop a small batch of kits, send them out across the UK to different families, organizations, care homes, get them to trial them and customise them, then have a group exhibition of all the boxes together. I will have an exhibition at the Design Museum from September through to January. I am really excited to show my work to such a wide variety of people that come to the Design Museum. I have the summer to test the prototype I have made on this residency, develop and edit it, make some simple and clear instructions, and then produce them.
Crafts Council and Watershed are both very well known organisations that have put trust in my work and me, by accepting me onto the residency. I believe that the craft and technology residency has helped me enormously getting onto the design museum residency. I think the residency really has worked as a stepping-stone on to other work and opportunities.
After this new residency I hope to get funding to roll out the boxes across the UK in various care home chains. If I cannot secure this funding, then I will look at putting the project on Kickstarter, to get some pre orders of boxes and some general market feedback to see how much interest there is about the work.
I formed many new collaborations within the Academy for Innovation and Research and Falmouth. This week I have been helping set up an exhibition, series of talks and workshops for a week long event on Climate Change called AIR: Pressure. Some of my other interactive design work is on show, I will be doing workshops all week based around embedded carbon emissions.
Also this Wednesday I will be showing my Music Memory Boxes at a carer event at The Eden Project alongside Falmouth Memory Café. Also the organisers have asked if I can show work at more events across the year as Falmouth aims to be the first dementia friendly town in the UK.
On reflection of these three months I have learnt so much in such a short time, about collaboration, making, coding and dementia. I have made strong friendships with really interesting people and I hope to pop back and forth and continue to work on these collaborations. From the residency on a personal note, I hope to take away a renewed confidence in my ideas, and future ambitions.
---