Posted on Mon 15 Sep 2008
---
Moose Hunt mobile game launches
Moose Hunt, a new mobile game, will be premiered this week as part of igfest, the festival of interesting games. The Moose (also known as artist Simon Evans), will be making his autumn migration from the deepest Forest of…
Posted by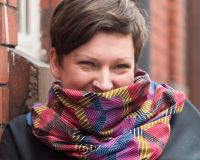 Clare is the CEO of Watershed and a Visiting Professor at University of the West of England.
---
Moose Hunt, a new mobile game, will be premiered this week as part of igfest, the festival of interesting games. The Moose (also known as artist Simon Evans), will be making his autumn migration from the deepest Forest of Dean to Bristol, your mission is to find him and photograph him.
The game works by texting 'moose' to 60300 to receive a map of the moose's current location. But be careful, the moose will be told your location and if he 'shoots' you before you 'shoot' him you are out of the game. Prizes for photographs in various categories including first sighting. Go to www.moosehunt.mobi to register for moose movement alerts and to find out more.
The game has been conceived by artist Simon Evans and has been developed with technology companies Pollen 8 and Mobile Pie. Simon will be dressing up as Moose and walking to Bristol over four days leading up to the festival, sleeping out each night. He will be carrying a GPS enabled mobile phone running an application supplied by Mobile Pie which sends his position to the game website every 15 mins. The website, developed by Pollen-8, handles the mapping, player SMS messages and the images players upload to the map.
To read more about igfest and the other games taking place between 19 and 21 September, visit the igfest website.
---