Posted on Mon 20 Oct 2008
---
Prototype Demo One: Typos and Team bonding
The first official PMStudio blog for Happy Pacakges Phase 2. Many many things to discuss (What are we calling it? How best to describe it without giving the secret ingredient away? Who to pitch it to first? etc etc) but I'm…
Posted by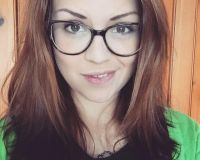 Rosie was the Pervasive Media Studio Assistant between 2015-2017.
---
The first official PMStudio blog for Happy Pacakges Phase 2. Many many things to discuss (What are we calling it? How best to describe it without giving the secret ingredient away? Who to pitch it to first? etc etc) but I'm going to jump in at the deep end with a brief run of the current state of play.
CURRENTLY : Version 2.2 is in production in the Mobile Pie Laboratory, though more about this later. Anyone know how to plan the database for a rich media GPS game application platform majiggery?
DEMO OF VERSION 2.1 : This was held at the Architecture Centre and was our first real milestone. In the end it was the hitting of the deadline more than the outcome of the days demonstration that was the biggest benefit to the production. All in all about 3 people recieved the Happy Spiel on the sunny saturday next door to the Arnolfini but our main intention for the day was to explore the ways in which we represent our new product and the ways we communicate with potential users / investors / partners.  As such the most useful outcome was a neat little booklet that took a user through a selection of typical product interactions without them having to go anywhere near the iPhone. Thankyou to ALL those people who spotted the numerous typos, but in true Thought Pie fashion it was ever so slightly a last minute...
IDEA DEVELOPMENT : We're currently throwing around ideas for application of the final product, from which we can derive likely markets (users) and potential investors. A key concept here is Channels, allowing us to theme trails and deliver sponsored content. But over the coming months it'd be great to have more chats with studio residents about how this iPhone app could be deployed / used / funded etc. At this stage it's still quite open to suggestion in terms of how content is delivered and how people engage with the application over time. Now that we're a little clearer on the specifics beyond 'producing a GPS iPhone app that delivers trails' we're in a great position to start put things to studio residents for their digestion / critique / input. Speak to y'all soon! (Just got back from Nashville on the red-eye and feeling a little ropey...)
Posted by Ben Templeton
---