Posted on Fri 5 Feb 2016
---
Talented creatives selected to participate in RAM dance-tech workshops
We were delighted by the interest sparked when we announced a call to join us for a playful introduction to a new motion-capture system in collaboration with Yamaguchi Center for Arts and Media (YCAM), in Japan.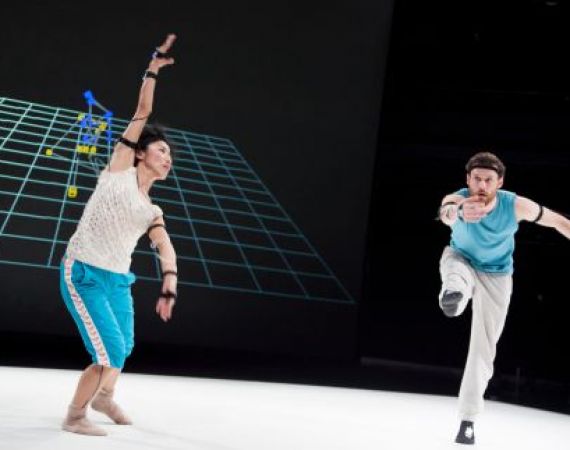 We were delighted by the amount of interest sparked when we announced an open call for workshop participants to join us for a playful introduction to a new motion-capture system in collaboration with Yamaguchi Center for Arts and Media (YCAM), in Japan. 
We sought dancers, choreographers, circus performers, and sports people to experiment with the RAM system (which stands for Reactor for Awareness in Motion). RAM was developed by YCAM working with dancers from The Forsythe Company. It consists of a specially designed motion capture system and software that visualises a virtual environment and creates interaction between the body's movement, other dancers wearing the system, and the environment. It's a new way of thinking about and creating movement. 
We have selected 10 participants to work with us over 2 days of workshops. The participants will work with YCAM and Watershed's Creative Technologists to explore the system, set rules within which to move, respond to those rules and then throw them out and start again. The participants are a talented and diverse set of creatives, joining us for the workshops are:
Chanti Hobbit is an award winning hula hooper and acrobat. She is an aerial stunt performer, and has a breadth of experience in choreographing and performing in large scale, site-specific ensemble shows.
Chisato Minamimura is a conceptual dance artist, choreographer and BSL art guide. As a choreographer, Chisato approaches her work from unique perspectives as a Deaf artist, using a mathematical score to create what she calls 'visual sound/music'.
Chryssa Varna is an architect, dancer, designer and coder. Her current research looks at dance improvisation and how it can be used as a tool for designing spatial interaction within a kinetic performance.
David McGoran is a robotic artist and designer, researcher and educator, dancer and puppeteer. His work interrogates the ongoing co-evolution between technology, humanity and nature. David is Creative Director of Rusty Squid.
Jess Thom is a writer, artist and part time superhero. Jess has Tourettes Syndrome and co-founded Touretteshero in 2010 as a creative response to her experience of living with the condition.
Joumana Mourad is a director, choreographer and dancer. She embraces digital technologies in dance, creating performances presented on three different yet interlinked stages (physical, digital-stream and digital-social) to create meaningful worldwide conversations, before, during and after a performance.
Laïla Diallo is a dance maker and educator. Her practice involves regular contributions to productions in opera, theatre and television.
Laura Kriefman is an award winning choreographer and a 2015 WIRED/The Space Creative Fellow. She specialises in augmented dance: the fusion between movement and technology. She is currently developing Mass Crane Dance.
Lisa May Thomas is a dancer, writer and filmmaker specialising in screen-dance with a focus on improvisation and somatic inquiry toward the connected body. She also works within the community and education sectors.
WenChi Su is a dancer, new media artist and choreographer working in Taiwan and London. In 2005 WenChi founded YiLab. in Taiwan, an experimental group of new media and performance artists working on integrating new technology with the performing arts, and seeking to present new performing formats.
We are also very pleased to welcome Shobana Jeyasingh, Will Renel, Phill Tew and Katy Noakes who will be observing the workshops and collaborating with the participants and technologists. YCAM's technologists Takayuki Ito and Yohei Miura will work with Watershed's Creative Technologist David Haylock. 
The workshops will culminate in a public Lunchtime Talk Showcase. Come along to hear about the workshops, see a demonstration of the RAM system, and join in the discussion about the developments this technology could enable in the dance sector and beyond.
RAM Taster Workshop is produced by Watershed and Yamaguchi Center for Arts and Media (YCAM), and is supported by Daiwa Foundation and British Council.
---