Lunchtime talk write-up
Posted on Mon 28 Nov 2016
---
Tales from the Playa
Resident Laura Kriefman led a Lunchtime Talk where she made us all envious of her recent trip to Burning Man Festival!
Posted by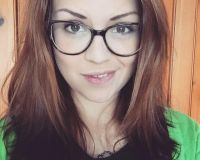 Rosie was the Pervasive Media Studio Assistant between 2015-2017.
---
Speaker
Laura Kriefman is the founder and Creative Director of Hellion Trace.
---
Laura Kriefman is a Choreographer who works in augmented forms of dance. You may know her from her impressive Mass Crane Dance project, which took to the Bristol Harbourside around this time last year and attracted 10,000 audience members who witnessed three industrial cranes complete a synchronised performance. When she's not making large structures career around in unison, Laura likes to enjoy the finer things in life, which is why she recently embarked on a trip to an annual gathering of artists in the heart of the Nevada Desert: Burning Man Festival. Here are five things I learned about her experience:
1. Why is everyone dressed like a Mad Max extra?
Laura's preconceptions of Burning Man included the bizarre notion that everyone dressed dystopian-chic for the occasion. It was only when she got out to Black Rock City in the Nevada Desert when she realised the necessity of such fashion choices. The festival becomes home to 70,000 people over eight days, in a self-built city. The environment in the alkaline desert is so aggressive, with an altitude of 4000ft above sea level, searing hot temperatures, and sand storms that leave skin cracked. Appropriate clothing needs to leave the individual cool and protected from sun and sand, which makes it unsurprising that people dress as though they're from war-torn or barren landscapes. 
2. A gift economy renders money almost obsolete
The community that erupts is one of generous artists, who abandon their sense of a free-market economy in favour of a gift economy, i.e. sharing and giving in a mutually beneficial environment. With coffee and ice the only things money can buy, a communal necessity of food provision and experience takes over and creates a welcoming home for those who have made the pilgrimage to the event. Laura's own experience of this generosity-in-kind led her to view the festival from the skies - with a pilot taking her on a plane trip around the desert. From this perspective, Laura could see the intricate maze of the city, built from art and remnants that have been brought along by attendees to create villages and installations. By way of payment, Laura assisted in pushing the plane back to the refuelling station. This respectful way of living really comes to fruition at the end of the eight-day stint, when attendees pack up all their belongings leaving no trace of the festival having taken place.
3. Burning Man nails secular worship
Each year, the 'Burners' erect a temple made from foraged wood with expert craftsmanship. This space becomes a secular space of worship, made sacred by the community. People bring offerings to the temple in the form of photos, messages and mementos. It is frequently used as a place to grieve. At the end of the eight days, it is burned into nothingness - a fitting metaphor for letting go.
4. Burning Man has four distinct tempos
Laura describes the festival as a city that never sleeps. In the night, it is cool. This is a time to reclaim energy levels and submit to a period of illuminated artworks and pyrotechnics. By dawn there is stillness and calm, with people retreating to their villages to prepare for the day ahead. The daytime is hot, harsh, and tough on you...and full of hidden surprises, including sandstorms! And by sunset, just before the cycle begins again, there is the bubbling of excitement with the prospect of the evening's activities. 
5. Art from here, there and everywhere 
Laura lamented that you can't go far without encountering friends from Bristol and it's locality, and Burning Man was no exception. She had heard murmurings of a familiar sculptural project involving Flaming Lampposts and was surprised to find Arcadia Spectacular had an installation set up. But aside from the work she was accustomed to, Laura was overwhelmed by some of the international work that caught her attention. She shared snaps of counter-levered lighthouses that burned green with the help of chemicals, created by father-son artist duo Jonny and Max Poynton. A giant articulated metalwork boar designed for climbing on by Bryan Tedrick. A set of giant insects whose wings glowed red-hot with the help of live-rigging of pyrotechnics by Therm. An armada of tree-sized mushrooms, built from corrugated materials allowing the shapes to swell and adjust as though breathing by Foldhaus Artist Collective. 
And, perhaps the most astonishing work from the festival was created by the artists Laura was camping with, who cycled the entire network of roads in the city to create an improvised Strava map - to complete accuracy. This required a 5am set off time and several hours of cycling, but the legacy within the app will stay with the festival long after it's disassembled and returned to sand. 
Where can we buy tickets for next year?
---