Posted on Wed 16 Nov 2022
---
The Future Is Collective: Chi Thai on Sustainability Managers in Film Making
Chi Thai, Associate Producer, The Future is Collective talks about why filmmakers should consider working with Sustainability Managers. 
Posted by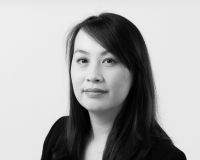 Chi Thai is an independent filmmaker & producer who works across features, documentary, animation & immersive. She has been a Cannes Lions finalist three times & her work has screened at BAFTA & Academy accredited festivals. She is an invited BAFTA voting member & Screen…
---
Project
The Future is Collective was a Watershed programme of work propelling community and climate activism by offering support and development to freelance creatives (2021-2022).
---
Play audio description of this page:
Chi Thai worked with us at Pervasive Media Studio and Watershed in 2022 as an Associate Producer as part of our The Future Is Collective project. They supported freelancers, from within the Pervasive Media Studio and BFI Film Hub South West communities as well as the wider sector, whose creative practices included climate and community activism. During their time with us, Chi delved into Sustainability in Film Making and here's some of their reflections...
Over the last 6 months I have had the opportunity to discover what it's like to part of an incredible creative community at the Pervasive Media Studio and Watershed - something I've nurtured a great deal of curiosity about for a number of years. Boarding as an Associate Producer as part of The Future is Collective a project propelling community and climate activism in the South West / West of England, my experience at the Studio did not disappoint - the sense of community is very real and very special; and the desire to be greener and kinder is very genuine. 
My time at the Watershed overlapped with another experience, the opportunity to be part of the Cannes Film Festival as an invited participant of the Impact Lab - which also speaks directly to climate. It was uncanny to see the joins forming between different parts of my work life and coming together cohesively - and the merging of these two experiences is what I shared as part of my time at the Studio and what I want to leave here in this post.
During the Impact Lab, I felt that I glimpsed a speck of the future of how much more and much better filmmakers could be at practically engaging with a sustainable practice. When I listened to Ludovica Chiarini (Eco Muvi) at Impact Lab, I knew I had to bring what she did to Watershed and in July she hosted a talk about sustainability as part of Imagining Possibilities at the Pervasive Media Studio.  
Climate guides and green codes will only take us so far but it's not meaningful enough by any stretch. We have to have a more integrated approach to how we create, how we produce. This means involving bespoke green strategies from a development stage, it means having departmental and inter-departmental conversations at early stages about how to approach the production sympathetically to both creative and the climate needs. It's about starting to really understand that the means are as important as the ends. 
Producers reading may be muttering that this feels like another responsibility on an already under resourced project they will need to assume. But, there's help in the form of Sustainability Managers. Yes, another body to budget for but this body is going to save you money, and effort and maybe optimise how you can run your production greenly. Just as Intimacy Co-ordinators have become the norm on productions adding value, creativity and progressing the ethics on how we make film and television, Sustainability Managers will do too and where they go they will improve the depth and scope of how green a production can be and add value everywhere.  
More than that, as they flourish, and work with more and more producers and productions, their bargaining power and influence grow, encouraging hire houses and facilities to invest in more green technology and equipment, and giving filmmakers more options and better rates for the things they need. In this sense, Sustainability Managers will undoubtedly transform the screen economy and marketplace; that's a wonderful thing to ponder on - that the future can be brighter and better; cleaner and greener. 
So my take away from this: make a little space in your project for a Sustainability Manager and start early. Normalise being climate-led and that starts with having a budget line for environmental stewardship. There's not many Sustainability Managers around but they are increasing; to prime this part of our work talk about it and discuss it, because through conversation we can influence industry stakeholders to invest in Sustainability Management training and courses to help build this new workforce that we need. 
The Imagining Possibilities talks Chi refers to in this blog are available to watch back for free here on Watershed's YouTube channel.
Chi Thai was an Associate Producer on Watershed's The Future is Collective programme, supported by Arts Council England.
---