Posted on Thu 26 May 2016
---
Creative Mornings Talk on Play October 25
So I've been invited to give a Creative Mornings Talk on Play - October 25, 8:30am - 10:00am at The Goldsmiths' Centre. London.IdeoBird is looking forward to it but isn't keen on getting up so early. "I'm not a bleeding…
Posted by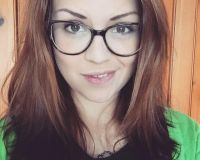 Rosie was the Pervasive Media Studio Assistant between 2015-2017.
---
Project
Meet Stuart Nolan's new pet the IdeoBird, a magical, mindreading creature. Held gently in your palm, the IdeoBird can sense the small subconscious movements of your hand and arms and so divine your secrets.
---
So I've been invited to give a Creative Mornings Talk on Play - October 25, 8:30am - 10:00am at The Goldsmiths' Centre. London.
IdeoBird is looking forward to it but isn't keen on getting up so early. "I'm not a bleeding rooster!" were her exact words.
http://creativemornings.com/talks/stuart-nolan
---