Posted on Thu 26 May 2016
---
The Fingometer
I spend some time this week asking people in the studio to hold out their four fingers and to think of one. I then attempted to detect which finger they were thinking of by sensing the ideomotor response. My hit rate is about…
Posted by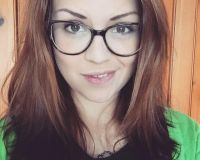 Rosie was the Pervasive Media Studio Assistant between 2015-2017.
---
Project
Meet Stuart Nolan's new pet the IdeoBird, a magical, mindreading creature. Held gently in your palm, the IdeoBird can sense the small subconscious movements of your hand and arms and so divine your secrets.
---
I spend some time this week asking people in the studio to hold out their four fingers and to think of one. I then attempted to detect which finger they were thinking of by sensing the ideomotor response. My hit rate is about 90%. 
I'm planning to construct a Fingometer which will aid the detection and hopefully increase my accuracy. 
---