Posted on Thu 26 May 2016
---
Second Week as Artist In Residence
So the second week has come to a close and it has been a very interesting time. Creatively I have allowed my thoughts to flow, form and stick together a little more. 2 Project ideas have manifested further and eeked ahead of…
Posted by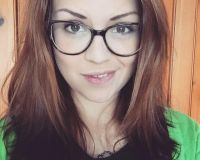 Rosie was the Pervasive Media Studio Assistant between 2015-2017.
---
Project
In summer 2015, we were joined by creative coder, technologist, sound artist and electronic musician Ashley James Brown as Studio Artist in Residence.
---
So the second week has come to a close and it has been a very interesting time. 
Creatively I have allowed my thoughts to flow, form and stick together a little more. 2 Project ideas have manifested further and eeked ahead of some of the others.
Ive explored my production models and refined them to enable me to reflect and also describe the way I work both now, and to give me an idea and guidance for the future. I've also had time to look at what drives me, really think about what I'm passionate about, what I am good at and also what things I appreciate but can happily not consider as my output or something I want to explore.
I also realised looking at the production models, and came to the conclusion, that what forms the difference between my client work and self guided work is 'ownership' and actually my drive for time for myself is not to make something deeply personal, as one resident told me 'your work is made by you so it will be personal and not crap', but to claim ownership of the entire project to be able to reference it as My Project. Im happy with both forms of work and each brings its own rewards, problems and ways of thinking and making.
I shared my thoughts, process and work in progress ideas and documentation (I never usually do this until a project is finished so that I can speak with absolute confidence and conviction) and in the spirit of open sharing my presentation is below, minus the charm of myself and noise from the machines.
http://prezi.com/tfisxcl1iyt6/?utm_campaign=share&utm_medium=copy&rc=ex0share
After some critical feedback, analysis, support and questions I feel confident in both ideas and where to go next. One has a slightly longer journey than the other and both contain elements of skill and thought that I am comfortable with and also conversely things that are new for me to explore. I am also a little surprised and glad at how similar some of the aspects of each project are. This also gives reassurance on the direction I am thinking of exploring both in this residency and for the next 6 to 12 months.
The one thing I have took away this week is to be confident in myself and my ideas. I will humbly admit that I have technical talent yet its often the case that I do doubt my artistic integrity, creative vision and outlook on my self guided works. The support from the residents here has really helped boost this and I look forward to entering my 3rd and 4th weeks with much excitement.
---