Posted on Thu 26 May 2016
---
Third Week in the PMStudio
Questions, drones, taglines.....oh and a lot of noise !I am growing very fond of working in the PMStudio. The passion and enthusiasm for artistic expression and creativity is very strong and I feel that it drives me forward…
Posted by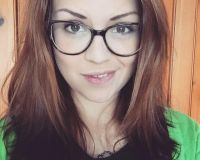 Rosie was the Pervasive Media Studio Assistant between 2015-2017.
---
Project
In summer 2015, we were joined by creative coder, technologist, sound artist and electronic musician Ashley James Brown as Studio Artist in Residence.
---
Questions, drones, taglines.....oh and a lot of noise !
I am growing very fond of working in the PMStudio. The passion and enthusiasm for artistic expression and creativity is very strong and I feel that it drives me forward with purpose and yet throws up ever more questions as I spend the time uncovering what makes me tick.
Relaxing and thinking about my practice this week, with the help of Verity and Rachael I turned to the reasons why 2 projects are sticking out and why now is the perfect time to work on them.
Music is a very big passion of mine. I have a record label, I produce, I DJ and perform live and these things are MY personal projects, ones that do not get touched by clients (except the occasional film score where I get full artistic control) This jigsaw piece in my repertoire has nagged at me for some time; while the rest of my passions become my professional work, I have admittedly not made the same effort and time for these creative explorations over the past 6 years. Having moved away from a long term collaboration this year to spend more time on my own endeavours its the right time to expose and invest time in. One of the project ideas has sat around for a few years and never really felt like something I could invest time in and turn into an actual 'thing'. The conversations around my practice, coupled with the technical knowledge and expertise seem to add fuel to the already ignited excitement that now is the right time to explore.
As the residency unfolds I realise the importance of longer self guided projects too, where I can really make the time for my own R+D, personally/conceptually/technically. The tech proddings and smaller works are not always satisfying enough and its clear that my two current explorations have a much longer lifespan than my usual outputs. This Artist In Residence programme has given me a hunger for more time, reflectively and artistically and given me the confidence to accept that I don't have all of the answers right now, but I can see a path of exploration ahead and how exciting a journey it will be.
This week I have been concentrating on my wearable patchable noise synths project and generally making a lot of noise in the studio, whether that be from a real drone or a synthesised one. This project is very artistically driven both in terms of concept and design but also the spirit and performance aspect too. The noise synths are very mischevious, loud, brash and musical to a niche audience and the design is neon style distressed with open electronics unlike other sleek wearables and the whole thing is a throwback to rave culture. Happy, fun, playful, open, passionate. It really captures a lot about my personality and ethos of my work and also what kind of individual I am and how I approach life in general. I will document some of the project process in a seperate post.
There is a lot within this project that I can achieve with time and a bit of more tech prodding and learning. I'm really keen to NOT collaborate on either of the projects and retain full artistic control. I rarely get this chance. However, there are a ton of questions and things that I cannot currently answer with many areas outside my expertise. This is great as it pushes me technically and artistically and also gives me wider and longer scope to work on the project, almost forcing me to take my time and give the project the commitment and thought it requires.
Working in creative technology I often get the chance to play and prod stuff to see what it does. NationalPlayDay was upon us and I had to take the chance to join the 12 year olds in the park - taking my drone for a spin and getting some attention with the impressive barrel roll stunts. I find it interesting how common they are becoming as even small kids would proclaim "look Mummy a drone!" You sometimes forget how outside of your bubble, work can seep into the outside world and how readily and easily the public are willing to accept and embrace new technology. 
On that note.
Coming soon.
"Rave on your Wrist!" NoiseNoiseRobot:Watch Edition
---