Posted on Wed 22 Oct 2008
---
Playing chumby
The studio has fallen in love with our chumby, which now it has been 'discovered' it runs on Linux, holds a whole new appeal. Studio resident Dane Watkins was the first to create a widget for the little screen - Target Art,…
Posted by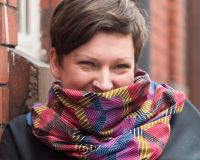 Clare is the CEO of Watershed and a Visiting Professor at University of the West of England.
---
The studio has fallen in love with our chumby, which now it has been 'discovered' it runs on Linux, holds a whole new appeal. Studio resident Dane Watkins was the first to create a widget for the little screen - Target Art, an interactive feedback and evaluation unit, is available to download from the chumby widget store.
According to Wikipedia: The Chumby is an ambient consumer electronics product which provides Internet and LAN access via a wifi connection. Through this connection, the Chumby runs various software widgets. Roughly resembling a small clock radio, it consists of a small touch-screen with a leather and plastic exterior. It uses AC power and turns off if unplugged and moved; a 9 volt battery connector is supplied for backup power. It costs $180 (USD) and comes in three colors. The Chumby has been praised by some as open source hardware which is designed to be customizable by users.
Watch this space for more chumby fun....
---