Posted on Thu 13 Nov 2008
---
Last Will and Testament - a prototype MITE
Last Will and Testament, an experimental installation by Punchdrunk, Hide and Seek, HP Labs and Seeper, was featured in The Independent today. A development of the ideas explored in Sensory Symptom (which is installed in the…
Posted by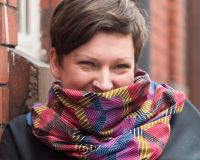 Clare is the CEO of Watershed and a Visiting Professor at University of the West of England.
---
Last Will and Testament, an experimental installation by Punchdrunk, Hide and Seek, HP Labs and Seeper, was featured in The Independent today. A development of the ideas explored in Sensory Symptom (which is installed in the studio), Last Will attempts to create a "hybrid experience between real and computer-generated worlds".
Last Will is described as a prototype MITE (Multiplatform Immersive Theatrical Experience) and invites to attend came via 'Butterworth Rosenberg Solicitors'.  I was one of the lucky few who got to book an appointment and find out more about an extraordinary old man with a mysterious will. On arrival at Butterworth's (or Cordy House in East London), players were paired up and roles dished out, one playing in the physical world and one in the virtual, collaborating to solve a series of conundrums and clues about Thomas Madigan's life.
Despite rumours of early technical difficulties (inevitable in such an ambitious technical project), all ran smoothly for me.  Occasionally I felt like I was playing Krypton factor, but overall Last Will was a phenomenal experience. Yes, I missed a lot of the subtly in the narrative and the relationship between the virtual and physical was sometimes fuzzy, but I felt in turn curious, competitive, anxious and challenged, and the climax of the piece was staggering. As Rob Sharp of the Independent says, "Last Will is still a prototype but I look forward to seeing how Punchdrunk develops its latest weird and wonderful gaming experiment"
Watch a film of Seeper's virtual rendering of the experience here.
---