Studio blog
Posted on Mon 21 Sep 2015
---
Chasing the Clouds Away
It has all, rather suddenly, gone a bit autumnal, but conditions are anything but drab in the Studio. With residents returning from their summer holidays, a typical week is fast paced, packed full of energy, and punctuated by…
Posted by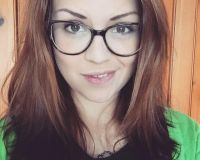 Rosie was the Pervasive Media Studio Assistant between 2015-2017.
---
It has all, rather suddenly, gone a bit autumnal, but conditions are anything but drab in the Studio. With residents returning from their summer holidays, a typical week is fast paced, packed full of energy, and punctuated by the return of our Open Studio Fridays. Since they began back up four weeks ago, we've had an excellent turn out and fantastic content/speakers. You can keep updated with our future talks here.
Following months of preparation, hard work, international trips and contending for meeting space, the Playable City team, along with architectural think-tank LAX, have unveiled the Urbanimals, a series of hidden animal projections around the city, displaying different behaviours and encouraging you to play with them in various ways. This was marked with an official launch, which happened in the Watershed cafe bar on Tuesday 15 September. It involved an incredible themed cake, a packed out bar, and lots of interaction and participation from all ages (and species) once the sun had set. The event was MC'ed by Watershed Creative Director Clare Reddington and Anna and Sebastian from LAX, and was well received amongst the many who attended.
From this week, you can to go out in search of the interactive creatures. The Playable City Twitter feed will be offering hints and new locations as they're revealed. Now the team, along with Clare Reddington, are preparing for their trip to Tokyo to extend the Playable City concept to a Japanese audience. You can read more about Urbanimals in this Guardian article, and watch the trailer, created by talented resident Benjie Croce, below.
Three residents have been nominated for awards this week. The Media Innovation Awards have just announced that residents Compass Presents' 'The Caligari Experience' has been nominated for an award in the Installation/Exhibition/Live Event catergory, and VIKA Books' 'In The Shadow of Things' has been nominated for an award in the Photography category. Aside from this, Alex Fleetwood of REACT's 2014 Play Sandbox has been nominated for an IndieCade Festival award for his smart-object-stacking game Fabulous Beasts. These are great and deserving achievements and we wish each of them luck.
Our industrial crane-obsessed resident Laura Kriefman has released info about Crane Dance Bristol on 3 Oct, ahead of her larger Zone 1 project. This unique event will see the iconic cranes of the Harbourside 'come alive' and 'dance' harmoniously to music from the UK's number one Bhangra band. This is certainly set to be an unmissable experience, and a great community event for lovers of art and cranes alike.
Last week the Encounters Short Film Festival was held at the Watershed, taking over all corners of the building and the Studio was no exception. Resident Tim Kindberg joined the programme running two workshops, based on his synchronised camera-phone film sharing app NthScreen. 
Resident James Wheale of Understory is taking over the Planetarium at @Bristol for a talk on food and the mind on Friday 25th September - to much demand. Tickets have sold out, but being a free event, there is a waiting list that you can join here. The talk forms part of James' extensive exploration into how sound and taste affect one another. Alongside this, video documentation of James' pursuits are being published thick and fast over on his website between now and next week - definitely worth keeping an eye on.
The Digital Cultures Research Centre have welcomed two new arrivals to their team. Following the completion of her PhD at University of Bristol's Theatre Department, entitled 'An Exhibition of Hidden Stories: Research into methods of staging oral history archives', Yiota Demetriou has joined the Centre as a Research Administrator. She has a background in live art and performance, and we look forward to her involvement in future projects. 
On a 3 month Erasmus internship, Lucilla Calogero from IUAV University of Venice has also joined the team. Her PhD research focuses on forms and practices of interactive documentaries, exploring contexts, methodologies, processes and innovative outcomes of new experimental forms of documenting reality. Unsurprisingly, she is working with DCRC team members on preparations for the eagerly awaited i-Docs 2016 conference in March of next year. 
There are many exciting things in the pipeline. Keep an eye on our Twitter feed or join our mailing list for more information as we release it.
---