Lunchtime talk write-up
Posted on Tue 22 Sep 2015
---
A Chorus of Bollocks: The Music of What People Really Think
Director-composer and performance artist Jennifer Bell has been developing a new politically-fuelled piece exclusively for the No Boundaries conference named 'The Babel Choir Project'
Posted by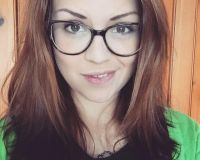 Rosie was the Pervasive Media Studio Assistant between 2015-2017.
---
Speaker
Jennifer Bell (M.A. Cantab) is a composer, artist and creative producer. She specialises in verbatim audio works, as well as creating participatory events that inspire new ways of thinking or doing.
---
In the lead-up to No Boundaries Symposium being held at Watershed and Home in Manchester between 29-30 September, we were lucky enough to be joined by director-composer and performance artist Jennifer Bell for our Lunchtime Talk on Fri 20 Sept. She has been developing a new politically-fuelled piece exclusively for the conference named 'The Babel Choir Project', whereby visitors' voices will be recorded and used in place of instruments in a unique composition. Here are the five things I learned during the talk:
1. Political language can be exclusive and alienating.
Jen is interested in the collective voice of a nation, and wonders, if we all literally contributed our voices to the political discourse, it would sound anything like the language of our current elected representatives. She suspects not.
Jen fears that the language used by governments serves to create barriers between them and their constituents. She believes the voice of the people can be lost when it contends with political jargon. She is interested in how the joint-speech of protest is to the point and indicative of common values, and as such should be given more weight in political discourse.
2. The nature of participation, both at a political and performance level, is inherently problematic.
Human nature and the fear of being humiliated are two factors that can inhibit participation in performance, but the same is true of politics, due in part to the same fear of humiliation and the restricted access to the language used. This makes acquisition of contributing vocalists difficult in her current piece, in that there will be reservations in sharing political opinion and 'performing' for recording.
3. Joint speech is a powerful force, and governments sometimes view it as a threat to regime.
Jen retold the story of Ibrahim Qashoush, a fireman and poet, who during the 2011 Syrian Uprising, authored a protest anthem. He was later found dead, with his vocal chords ripped out. 
4. When immersed in conversation, brain activity operates in a different way to when involved in joint speech.
Jen cited cognitive scientist Fred Cummins, who has studied the effect of joint speech through neuroscience. His findings suggest that in a conversation involving listening and participating in speech, the blood flow and activity in the brain shows up as being asymmetric when viewed with an EEG brain scanner. In contrast, joint speech involves more evenly distributed brain activity. This leads to decreased self-analysis, less self-criticism, and the ability to identify more with the group than with themselves.
5. Jen has created bespoke software to aid in the composition of the piece.
Along with the help of a developer, Jen has created software that allows her to select clusters of similar pitches and tones from voice recordings. This will enable her to map the music and create a composition made up of unadjusted fragments of real speech. 
Jen is currently working in partnership with Westminster, experimenting with compositional pastiche of political discourse and representation, and creating portraits of Parliamentary staff and Parliamentarians, which will be performed as a song tour throughout the Houses of Parliament in November 2015. As a performer, she sings or conducts with a variety of different companies, including her ongoing work in France with Compagnie ON/OFF in 'SMS: Chante Moi Une Chanson'.
---