Studio blog
Posted on Fri 25 Sep 2020
---
Its a new brief: What we can do with creative business in these times
This is Part Five and the final blog in a series of five blogs Gill Wildman is writing for the Studio. Gill Wildman is Business Development Adviser for Watershed and SWCTN.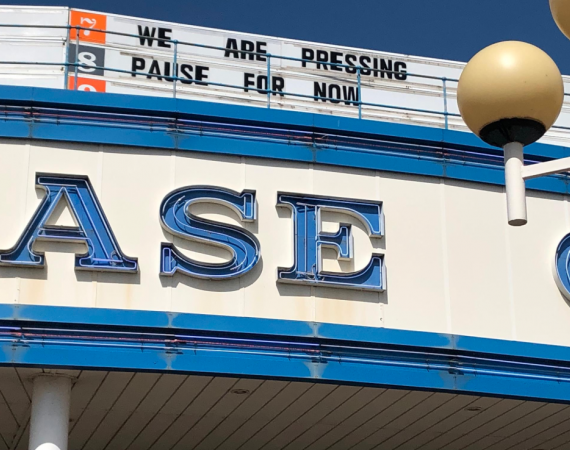 It is now some six months since we have been at home, with the occasional trip and venture out. Some of us have gone back to the workplace. Some back to school. Some of us have even had holidays.
We have reacted fast to change and have adapted to new circumstances. Our bedrooms and kitchens continue to be our workplaces for the time being. Whatever your positions on will it or will it not go back to how it was, and what do we do in the meantime. For most of us it is not a case of going back, but more about how do we do things now?
I've been tracking how different kinds of business have reacted during the past 6 months. I've looked at what they have done to survive, and how they have used this time to rethink. I would like to share some of the patterns, and invite you to think about how you might use them in your business. What is clear is that successful creative businesses are those who treat this time as a time to think about what and how we do what we do. In effect its a change of brief.
We don't have a have a crystal ball, but we can look at other companies or sectors, and adapt what works. It is a great way of opening up new thinking. Here are some examples of the kinds of ingenuity that we can adapt to our business. We can use them to think about how they might (or might not) work in our own creative business.
Look at what other sectors are doing
We can check out how other sectors adapt, and think about how this would work with our business. Some food businesses have changed their customers, others changed how they deliver. Before Covid, DeGusta sold supplies direct to restaurants. Early in lockdown they curated their list and delivery service for a whole new audience at home. By doing this they opened up a whole new set of customers. They went from being business to business, to direct to customers with a little repackaging. Some shopkeepers worked out how stay open by putting a perspex hatch on the door front. You can see what is on offer and they can still care for your safety. If you can't reach your audience, what's your version of a hatch?

Photo: Easton Bakery hatch, St Marks Road
When it comes to making sure that money continues to come in, we have to adapt what we do to make it safe all round. Small businesses have been making service tweaks to bring food to us when we can't come inside. Take restaurant Thali, who took their core business premise - thali containers to pick up. They created a new delivery service, supported by a brand new customised bike and are testing it out to see if its possible.

Photo: Thali bike
Collective power making and delivering
Where changes need solutions that are too expensive for small companies, we can share expenses by combining forces. Pooling resources for bigger investments such as new ways of making, delivering, or new digital platforms shares the load. Good Sixty a group of 35 independent shops and artisan producers in Bristol and Bath. They combined forces, all delivering as a group by bike.
From our home to yours
Creative companies tried new ways with existing audiences. To keep us connected, Boiler Room brought great DJ's into our rooms, streamed live from theirs. https://cdn.boilerroom.tv/ . Pervasive Media Studio resident Tom Marshman took his stage show online, performing live from home for his special guests. Camille Aubry broadcast her new live drawing format, having used this time to invent new forms of work.

Photo: Annette Curtains c/o Tom Marshman
Fast pivots
Crack magazine moved early and shifted their printed magazine to online. Once they realised that it was no longer possible to print the magazine, they enhanced the digital version and put it behind a paywall. They set up two kinds of subscription that reward loyalty with special access and free gifts. It's what we call a pivot, changing your business into a new form, or for a new audience. In the background they work on their own R&D, through projects that combine mixed reality and live performance. What new forms of your existing product might be possible?
Selling future work
Some have found that selling work that they will produce at a future date is a way of securing cash flow. Crowdfunder started its free Pay It Forward scheme. This was their response to get customers to advance-fund, to reduce the effects of Covid on small businesses. Jon Aitken, a film maker in the PM Studio was able to get payments from clients for work in the future. Trusted clients offered this because the work could not happen at that specific time. Of course this is trickier with new clients, but asking for a proportion up front might help. If you have clients who know that you will deliver, might be open to and flexible enough to access the cash in advance. In effect it is your time in a future bank.
Attend to your spend
There are some basics to take care of. We have to be careful with how we spend our money in a crisis. Cutting costs is an obvious tactic, so reviewing what you pay out for is essential. What costs can you cut now? We exist in a network of other companies and creatives. We can make sure that we fund the businesses we want to continue to exist in the future.
Before Covid 19, everyone expected Creative Industries to continue to grow. Our challenge is to work out new ways of surviving. In a pandemic, the fact that a creative business is still going is the equal to growing. What's visible from the past 6 months is that creative business open to trying new ways of thinking have a much greater chance of finding success.
There is an encouraging stream of business adaptation that we can see, consider and test out on our own. What might start as a challenge can also become whole new opportunities.
It is also clear that not everything can go online. For those who work with live audiences especially, we cannot squeeze in together. So for those in festivals, indoor spaces and theatres the challenge is to transform what they do.
In Business Reset, a 4 week programme we ran in the Pervasive Media Studio, we explored methods of adapting to these new circumstances. In short it was a creative business pivot over 4 weeks. We started with a small set of questions. What else can we do with what we have? How else can we reach people? What might they now buy from us?
If you have not had the chance to read it, Arundathi Roy's piece Pandemic is a Portal might fire you up.
As someone recently said (and I wish it had been me): the thing is to treat it like a whole new brief.
---