Posted on Fri 21 Jul 2017
---
Feeding back from Feeling Food
A quick sharing platter from Studio Producer Verity McIntosh, reflecting on the Feeling Food lab, a day of exploring, experimenting and rapid prototyping with food, taste and mid-air touch.
Posted by
Verity is a Senior Lecturer in Virtual and Extended Realities at UWE Bristol.
---
Project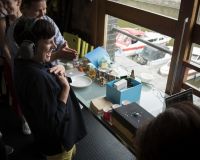 A day of exploring, experimenting and rapid prototyping with food, taste and mid-air touch
---
We in the Studio are obsessed with food. Over the years, we have worked with artists, technologists, chefs, food psychologists and a wide community of the culinarily curious.
When the opportunity arose to work once again with our brilliant friends at Ultrahaptics, a Bristol-based tech company creating the impression of touch in mid-air, our minds turned straight to food, and how taste and touch might interact. The Feeling Food lab was born.
During a day-long experimental lab at the Pervasive Media Studio, an incredible team of participants dreamed up an array of tactile, tasty morsels including zombie carrots, jumping popcorn, and prosecco you make in your mouth.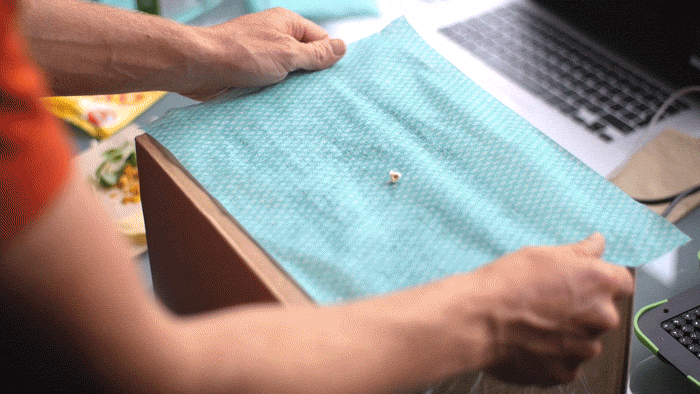 For the lab we brought together a group of foodie friends from the Pervasive Media Studio and Ultrahaptics' communities and invited them to do something that would be out of the ordinary for everyone.
To start with, each of the participants introduced an item of food or drink and shared a story about it. We got to sample artist and chef Jasmine Creusson's grandfather's powerful moonshine, made the year she was born and quaffed in times of great significance (we were indeed, honoured). We discovered that co-host Heather Macdonald Tait is (very nearly) a qualified beer judge and that you can buy fried chicken flavoured ice cream in Japan. We learned that cashews grow on apples, that Irn Bru is more popular in Scotland than Coca Cola, and that culinary scientist Michael Camilleri, formerly of The Fat Duck, has 3D scanned more bread than anyone else in the world.
To get the creative juices flowing, we played a game involving small teams picking a mystery item of food from under a cloth, coupled with choosing two design dimension cards at random that suggested a user group, and a mode of touch. We challenged each team to come up with a project (preferably with an excellent pun-based title) in just 15 minutes.
The results were rib-ticklingly brilliant. We had 'Colslawter'; a zombie apocalypse film from Daniel, Craig, David L and David H, in which carrots can be rubbed together to generate energy, at least until they mutate into giant 'Carrot Prime' robot creatures piloted by rampaging zoo keepers…
Design dimensions: a carrot, zoo keeper, rub
Anthony, James and Sue Ann created not one, but two ingenious inventions to allow agoraphobics to grow, juice and enjoy their own tomatoes without anxiety, including the 'Tomathrower' which seemed to involved a balloon with wings and a cherry tomato in the neck. I'll admit, I did not fully grasp the concept, but enjoyed it immensely regardless!
Design dimensions: bowl of tomatoes, agoraphobics, wring
Adam, Heather and Danny pitched a dog training academy that would help discerning doggos to recognise the hotness of chillis by scent according to the Scovil scale. The spice-sensing spaniels would then be able to signal to their owners what level of oral inferno they might expect from an illusive 'mixed bag' of chillis.
Design dimensions: chillis, dog owners, slap 
Michael, Pete and Jasmine proposed an extraordinary multi-sensory experience including sound, scent and virtual reality animations designed to give you a more uplifting experience at a beauty salon, distracting from some of the more uncomfortable depilatory 'treatments'.
Design dimensions: poppadum, beauticians, lift
From here, we got a bit more serious (although this should be understood as a relative term).
Many of us were struck by how deeply personal people's stories of food had been. So much of what we were talking about wasn't about technology or the chemistry of taste, but about family, memory, celebration and shared experience. Combining touch and taste as we were, felt like an intimate thing, as though we were making time for the quiet, sensual cousins of sight and sound that can monopolise our sensory understanding of the world.
Keeping this in mind we set off in small groups for the afternoon, armed with ultrahaptics kits, a few electronics, paper, pens, post its, quite a bit of cling film and of course…of lot of food.
The ideas, experiments and adventures undertaken were too wide ranging to capture here, but when we came back together at the end of the day to share with one another, and a few curious guests, the teams had arrived at three distinctive ideas:
1. Team Haptic Mess
The team welcomed us to the 'Haptic Mess Café' where the day's set menu was a selection of very lite bites including popcorn, meringue, skips and prawn crackers. Diners don a pair of ear protectors and lean over their haptic 'plate' as their food jumps up and into their open mouths!  
The team imagine a scenario where reluctant eaters of certain foods would set aside their usual flavour limitations in search of a fun, fine dining experience. They pushed the idea even further by offering a possible future development of the technology in which fruits could be levitated, sliced in mid air and returned to your plate as an fabulous fruit salad. My heartiest respect to the team for demo-ing this by throwing fruit (fruit ninja-style) out from behind the whiteboard and to the extraordinary Daniel who somehow managed to catch it all in a bowl like a moustachioed waiter in a loony toons cartoon.
2. Team Odd essy
What does a forest feel like, how does a desert taste, what about the ocean? Team Odd essy flipped the ultrahaptics array upside down and mounted it in a box that encouraged you to put your hand inside. With your palm upwards you might feel the undulation of the tide lapping on the shore, as you taste an earl grey, nori and sea salt infusion that puts you in mind of the sea, all the while listening to a specially composed binaural soundscape to give the whole experience a meditative feel. The team created similar multi-sensory encounters for a forest, with fat, wet raindrops landing on your palm as you eat an earthy, umami broth, and for the desert (dessert?), the winds of a sandstorm whip across your hand as you sink your teeth into praline-stuffed apricots, with a hint of spice to suggest the heat of the sun.
3. Team Water into Wine
"The impossible, sure we can do that now, but miracles may take a little time". 
So goes the mantra of this ambitious group who voraciously experimented with the affordances of the ultrahaptics technology, and in so doing discovered that the ultrasonic frequency used to give the sensation of touch on your hand, also make liquids move as though possessed! At the right distance, this effect can be recreated for liquid you have in your mouth, and so water starts to feel fizzy, and…yes…thanks to rigorous testing I can confirm that bog-standard white wine does start to taste like Prosecco, hooray *hic!
My huge thanks go out to our partners in touchy, tasty mayhem, the marvellous Ultrahaptics team, and to all of our brilliant, talented, ambitious and good natured participants. As with all great meals, this has been an exceedingly more-ish, experience, and I am excited to think about what might come next as we continue to explore the intersection of food, technology, and interdisciplinary creativity.
This project has received funding from the European Union's Horizon 2020 research and innovation programme under grant agreement No 685368.
Find out more about the Studio's adventures with food here
---