Verity McIntosh
UWE Bristol
Verity is a Senior Lecturer in Virtual and Extended Realities at UWE Bristol.
---
Worked on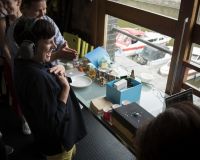 A day of exploring, experimenting and rapid prototyping with food, taste and mid-air touch
---
Bristol VR Lab is a new space for research, development, product design, teaching, company incubation and investment within Virtual and Augmented Reality that will open in central Bristol.
---
Verity McIntosh a Senior Lecturer and Programme Lead for a new masters course in Virtual and Extended Realities at UWE Bristol.
From 2011 - 2018 Verity was Managing Producer at the Pervasive Media Studio. She curated a vibrant mix of projects and events and works closely with a community of over 100 Studio residents, including artists, creative companies, technologists and academics. As a creative producer she worked with the teams and individuals to develop, expand and realise their ideas. She also programmed a regular series of talks and events, including the Friday lunchtime talk series.
Previous key projects included international arts commission, The Playable City Award which invites creative practitioners from all disciplines to respond to the concept of a city as a personable, playable and social space that can be reconfigured and re-imagined by its citizens. Verity was the lead producer for the 2013 and 2014 Playable City Award winners Hello Lamp Post and Shadowing, both of which were nominated amongst the Design Museum's Designs of the Year and have gone on to tour internationally.
Verity is also a regular public speaker (incl SXSW, Edinburgh Science Festival, Bilbao Design Week), guest lecturer at UWE and UAL and writer of assorted things (Arts Professional, Medium).
She is an enthusiastic advocate for work that is experimental, embraces risk and that is interdisciplinary by design.
---
Studio themes
---