Posted on Thu 26 May 2016
---
Developing the Music Memory Box
My first week- Making friends
Posted by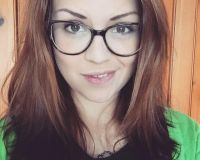 Rosie was the Pervasive Media Studio Assistant between 2015-2017.
---
Project
Music Memory Box harnesses the evocative power of music to create a tool for people living with dementia to recollect, reminisce and reconnect with loved ones.
---
My first week- Making friends 
My project is all about making a community that inspires, informs and develops the project from the first Music Memory Box I made. The areas of the community around Cornwall I hope to assemble in the project are tech people (tinkerers, hackers, professionals, anyone interested), the older population with memory difficulties (independant, residents in a care home, residents in community hospitals, visitors to memory cafes, organisations involved in art and health sector) and finally craft makers (students, enthusiasts, professionals, academics, technicians.) 
With these three teams of specialisms, I can begin to think about how the project could be upscaled and rolled out across the country.
Dr. Katie Bunnell is my main point of contact in Falmouth. She is a fountain of knowledge on anything crafty or techy so it has been amazing to pick her brain about some things I've been thinking about. It is great to be part of Autonomatic, a research cluster based at Falmouth University, even if it is only for a short time. She has introduced me to many wise people connected to the Academy for Innovation and Research (AIR) and Falmouth University.
Throughout my journals I will be highlighting people, organisations or groups that I have met:
-I love hackspaces, as they are full of the most interesting people to chat to. I am used to the fantastic Brighton Hackspace, so when I visited Bristol to do the talk at PM Studio I had to check out Bristol Hackspace. And this is what I found:
The hackspace was full to the brim of people making jewellery, people making wireless devices to connect to the Raspberry Pi, people having laser cutter inductions, people chatting, people fixing things for others, people getting help with their code and people like me showing what they had made and seeing how they could develop it further.
It was great.
-Jayne Howard and Sarah Hunt from Arts for Health Cornwall and Isles of Scilly
Katie and I went along to the fantastically located Arts for Health eco office in Jubilee Wharf in Penryn. They do brilliant work in and around Cornwall getting people creative to help their wellbeing, health and general happiness. They have been instrumental in introducing me to various people that would be interested in getting involved in my project and I will carry on working with them throughout the three months. 
In terms of developing the Music Memory Box:
TECH: I look forward to working with Openshed (Penzances new and exciting hackspace/cafe) and am thinking about joining their sci fi book club. I have learnt that the best option for future memory boxes will be to convert from using Arduino + Adafruit Waveshield into using the Raspberry Pi. As the Pi already has built in sound and offers me more options in terms of people adding their own objects and music on to the system (via a Wifi dongle). Also it will be more cost effective. I have started to get into the finer details of the programme I need on the Pi and the various options each scenario (in hospital, at home, in care home, in memory cafe) might need for the design of the system and objects. 
HEALTH: I am making links with a community hospital, a memory cafe, a day centre and a care home so I can have a wide range of test places for the developing project. Each scenario will need a slightly different approach. I hope to go along and see what existing activites are in the location already and make some friends first in each place, before I talk about my project. There are very sensitive and emotional issues that go alongside dementia with families and care so I need to be aware of this and act in accordance. 
CRAFT: I have had my workshop inductions, and it is great to have the resources of a university again. I had an interesting demonstration with Contemporary Craft students about lost wax casting by using sprues. I think the casting processes are interesting and valuable to my work as I could start to think about taking casts from things people have made in one of the workshops I will run or think about casts of objects that they already own.  
More updates @ChloeMeineck 
---