Posted on Tue 13 Apr 2021
---
The Three Horizons
As Equitable Futures starts using the Three Horizons model, we share a bit about Watershed's history with it as useful context for understanding why we have returned to it now. 
Posted by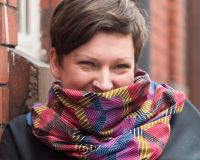 Clare is the CEO of Watershed and a Visiting Professor at University of the West of England.
---
Project
We live in capitalism, its power can often seem inescapable - but then, so did the divine right of kings. Any human power can be resisted and changed by human beings. Resistance and change often begin in art.
Ursula…
---
Watershed first started working with Bill and the International Futures Forum around 2006, as part of a process to understand our role and impact in what we now understand as the creative ecology.
We undertook a huge amount of shared thinking around art and ecology - and Watershed evolved alongside Three Horizons - acting as both a test case and a contributor to its development for the culture sector - at the beginning of the work that became the Pervasive Media Studio.  
Back then, Watershed was one of very few venues working across art forms, and one of fewer cultural organisations interested in the potential of technology. We were (are) driven by curiosity, collaboration and an energy for supporting talented people. As a practice-led organisation, methodology was one of our main outputs, but we did not know how to articulate the necessity or impact of our role.
Funders were not supportive of our wish to do things that were outside of the culture sector, and often parental in trying to make us stay in our lane (this is not the case today).  Technology was seen as the preserve of the commercial sector. The role of hub was not yet well understood. They didn't need an uppity innovation agency - they wanted a cultural venue.   We were in somewhat of an existential crisis.  We had no 'key performance indicators' we could BELIEVE in. 
Cue Bill and his colleague Graham, who carefully listened and encouraged and cajoled us with some intellectual scaffolding in the form of three horizons and dilemma thinking.
They helped us understand our role: 
"Watershed's particular role is as an innovator (not just an inventor) in the economy of meaning. It is a place where novel things happen that are subsequently translated into sustainable new patterns of shared expression and activity. We call this 'cultural innovation'.
And helped us to understand why funders didn't get what we were doing. Our funders occupied a different horizon to us, they spoke a different language. Raising our volume, like a Brit in a spanish coastal resort, was not going to change that. 
By understanding our differences, we gained empathy for our funders context and empathy for ourselves, and it made a HUGE difference to our confidence and our ability to act. We began to understand our mixed model as part of our resilience - and the pull between money and meaning contributed to a healthy creative tension. 
The evolution of Watershed's understanding of its role in the cultural ecology, and our use of Three Horizons, is documented fully in Producing the Future (from page 32) - do take a read if you would like to know more. I hope that three horizons will hold a similar power for us today - giving us a better understanding of the systems we operate in, where we want to be, and where we make real change.
For a simple overview of the model itself we recommend watching this video by Kate Raworth.
---