Lunchtime Talk
Fri 21 Oct 2016 14:00-15:00 at Pervasive Media Studio
---
"With great opportunity comes great responsibility": Building an ethical framework for Virtual Reality documentary
Studio resident Catherine Allen joins us to talk about the ethics surrounding Virtual Reality.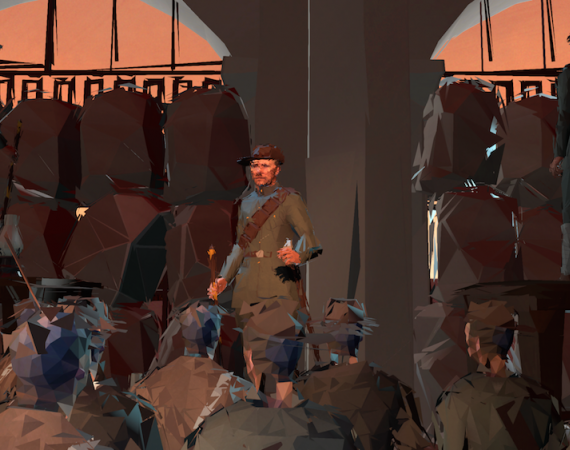 Speaker
Catherine led the creation of two of the BBC's first VR experiences and provides her expert op-eds, comment and analysis to outlets including Wired magazine, The Guardian, VRFocus, Gizmodo, Tech Radar and Tech Crunch. She is…
---
Studio resident Catherine Allen produced of one of the BBC's first VR documentaries, Easter Rising: Voice of a Rebel – a virtual reality documentary where the audience live through the memories of a rebel in the Easter Rising of Dublin, 1916. 
Catherine argues that when a person puts on a Virtual Reality headset, they are vulnerable. It's not only about the senses they loose in the physical space they are in; it's about the virtual environment they are dropped into. Whereas TV and film involve showing your audience a situation, VR involves them in it. They can feel complicit. If creating a VR experience for a user is more like taking someone somewhere in real life, then the producer must adapt their ethical approach accordingly. In this Lunchtime Talk, Catherine will share her own learnings and argue that the media industry needs a new ethical framework for VR. Relying on the legacy from 'rectangle media' is not enough.
This Lunchtime Talk is part of Open Studio Friday, which takes place at the Studio every week.
Do you want to find out what is going on at the Pervasive Media Studio? Are you interested in meeting our residents, talking about a specific project or curious about pervasive media? Why not pack a sandwich and join us for one of our Lunchtime Talks and Open Studio Friday.
Lunchtime Talks are informal presentations by Studio residents and associates. They normally take place at 1pm on Friday, are free and open to everybody who's interested in what we do.
After the Talk, we also invite you to stay with us for the afternoon to continue the conversation or work on your own projects. We provide chairs, tables, wireless and a great space. You bring what you need to work with (laptop/mobile). Our open afternoons close at 5pm.
Let us know if you'd like a tour of the space and we'll be happy to show you around just before the talk. Send an email to studio@watershed.co.uk to book your place on a tour.
---
Studio themes
---