Event
Wed 6 Jul 10:00-17:00 at Pervasive Media Studio
This event takes place every Wednesday.
---
Producer Wednesdays
A regular offer, for those working in a Producing capacity in any art-form, to join us in the Pervasive Media Studio
Hosted by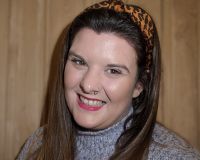 Liz is an interim Producer in Watershed's Talent Development team, working on the production and delivery of programmes engaging young people, spanning Rife, the Pervasive Media Studio and Cinema.
---
As Studio Producer, Luke manages the space and community of residents at the Pervasive Media Studio. He leads the Studio Team and works with residents to assist the development of their practice and business.
---
From 10am - 5pm every Wednesday, we are excited to welcome anyone working as a Producer or in a producing role to join us in Pervasive Media Studio. Whatever your background and whatever art-form you work in you are invited to set up camp on a hot desk for the day.
We want this to be an opportunity for you to share what you're up to or allow us to help facilitate conversations within the resident community who might be able to support you with your work or may be looking for a producer for their work. Studio staff will also be around to chat, answer questions or tell you more about what we do.  
You don't have to stay the whole day, all we ask is that you pop into the event space over lunchtime to meet our community and each other and that you share our ethos of being a generous and interruptible space. 
There's no need to book, just turn up to Watershed and let the box office team know you're here for Producer Wednesdays and you'll be directed to the Pervasive Media Studio where a member of staff will be there to greet you.
If drop in systems aren't accessible for you, please email jade.h@watershed.co.uk to book in. When you book in, we will link you up with a member of our team who will reach out to find out where you would like them to meet you and what time you will arrive. That team member can also arrange a time for you to visit the Studio for a 1-2-1 tour so you can familiarise yourself with our space before attending. We have a dedicated quiet space and dedicated quiet desks area, which all visitors are welcome to use.
To learn more about Pervasive Media Studio click here
Accessibility
The PM Studio is wheelchair accessible and there is an accessible and gender neutral toilet. There is also a baby change area. 
We have a dedicated quiet room where there is low lighting, sofas, bean bags and space to lie down. This is away from the general open space of the Studio. 
We also have some adjustable desks for working at different heights and some stand up desks available as well. 
If you have any access requirements you'd like to discuss, please email jade.h@watershed.co.uk and we will do our best to accommodate you.
COVID 
We ask that you keep your mask on when moving around the Studio, you are free to take them off when you sit down. If you are able to take a lateral flow test before coming in, that's also appreciated but it's not essential.
---