Lunchtime Talk
Fri 3 Dec 2021 13:00-14:00 at Pervasive Media Studio Event Space
---
Putting The Fun In Non-Fungibles
NFTs - otherwise known as Non-Fungible Tokens have exploded into the public consciousness in 2021. In this lunchtime talk, creative technologists Derek Ahmedzai and Norts will share their findings exploring the NFT art scene.
Speaker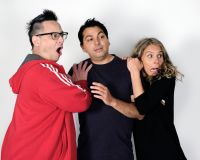 Tiny Giant are an eclectic trio of creative technologists who fuse bold ideas and emerging tech to help businesses stand out.
---
We are delighted to announce the return of in person Lunchtime Talks! Our talks will now be both in the building and streamed live, so you can join us from the comfort of the Studio or the comfort of your own screen, in your own space. 
Capacity will be limited and we are asking people to book in for the talks, if you can. Please feel free to turn up on the day, although we can't guarantee there will be a space.
NFTs - otherwise known as Non-Fungible Tokens (unique digital tokens that represent ownership of virtual or physical items) - have exploded into the public consciousness in 2021. No more so than in the art world. 
Ever willing to explore strange new realms, creative technologists Derek Ahmedzai and Norts have spent the last year exploring the NFT art scene to understand the way artists old and new are using them as expressions of creativity. It's been quite a ride!
They will talk of good stuff, bad practice, communities, hucksters, CO2 issues, clean NFTs and more. They'll also showcase their respective excursions into AI art and 3D models, and explain why they'll never want to own a superyacht in the metaverse. 
Derek and Norts will help you get to grips with what's going on (though some of it makes no sense).They will serve up a slew of hard truths and slice through a melee of myths and misconceptions.
We look forward to seeing you there.
Derek and Norts
Derek Ahmedzai and Richard Norton are Residents at the Pervasive Media Studio. They are creative technologists who enjoy experimenting with all that's new and shiny in digital technology. 
They previously spoke at Pervasive Media Studios in February 2020 on the subject of Creative AI (alongside Kerry Harrision).
Join us at 1pm on Friday 3rd December for the talk and to take part in the discussion afterwards. Come to the Studio, or join us on YouTube Live here.
The Studio is wheelchair accessible, and the events space has a hearing loop. The last talk of every month is BSL interpreted. 
*Please note this is a hybrid event and will be live streamed so please be aware you will be in the live broadcast and recording when watching in the Studio.
Address:
Watershed, 1 Canon's Rd, Bristol BS1 5TX
Directions:
The Lunchtime talks take place in the Pervasive Media Studio Event Space. To access the Studio, please go to the Main Watershed Box Office entrance and go upstairs to the Café Bar. Walk across the cafe bar, turn right and walk towards the double doors. Go through into the corridor and walk all the way down until you reach the Studio. A member of staff will sign you in, and check your ticket, if you have booked.
---