Event
Fri 25 Feb 13:00-14:00 at Pervasive Media Studio Event Space
---
Composing Experiences
In this talk Duncan Speakman will present new methods for understanding how people experience immersive artworks and will look at how sound and augmented reality offer new insights and responses to climate collapse.
Hosted by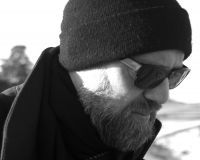 Duncan is an artist working with mobile audio in uncontrolled public and private spaces. His current PhD research is in the compositional structures of locative audio works and their relationship to current ecological debate.
---
This talk will be BSL Interpreted and will be held in the building and online! Book your ticket here to attend in person.
In this talk Duncan Speakman will present some new methods for understanding how people experience immersive artworks. Focusing on journeys through physical environments he will explain how 'time geography' can be really useful for anyone designing experiential works for audiences. Through sharing some of his own recent works Duncan will also offer some provocations around how sound and augmented reality might offer us new insights and responses to climate collapse. 
Duncan Speakman is an artist and composer working with mobile audio and locative media, he creates narrative experiences that engage audiences emotionally and physically in uncontrolled spaces. From intimate in-ear stories to large scale performances, his award winning projects range from sound installations on Guangzhou tram networks and loudspeaker symphonies in Christchurch, to performative audio walks in Saitama and radio works for the BBC. His recent project 'Only Expansion' won the award for Best Immersive/XR at London Film Festival and the Special Jury award for immersive non-fiction at International Documentary Festival Amsterdam. He recently completed his PhD on the temporal composition of audio augmented reality. 
Join us online on YouTube Live or in the building on Friday 25th February 2022 at 1pm for the talk and to take part in the discussion afterwards.
Address:
Watershed, 1 Canon's Rd, Bristol BS1 5TX
Directions:
The Lunchtime talks take place in the Pervasive Media Studio Event Space. To access the Studio, please go to the Main Watershed Box Office entrance and go upstairs to the Café Bar. Walk across the cafe bar, turn right and walk towards the double doors. Go through into the corridor and walk all the way down until you reach the Studio. A member of staff will sign you in, and check your ticket, if you have booked.
The Studio is wheelchair accessible, and the events space has a hearing loop. The last talk of every month is BSL interpreted. 
*Please note this is a hybrid event and will be live streamed so please be aware you will be in the live broadcast and recording when watching in the Studio.
---