Lunchtime Talk
Fri 24 Jun 13:00-14:00 at Pervasive Media Studio Event Space
---
Songography: Spiritual Cartography
In this talk, composer, creative producer and artist Jennifer Bell discusses her research project 'Songography' which looks at alternative ways of mapping an area, based on how we locate ourselves and our communities.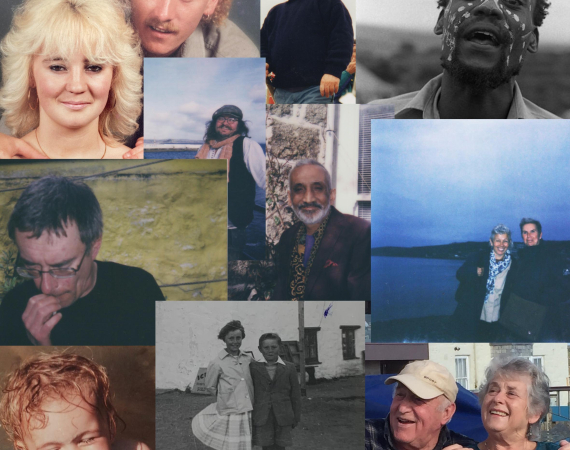 Speaker
Jennifer Bell is a composer, creative producer and artist who creates song portraits of people drawn from verbatim material. She specialises in close-harmony vocal compositions, through which she chronicles places or groups of people. Her practice was the focus of Michael Rosen's BBC Radio 4's 'Word of Mouth', following her song tour of The Houses of Parliament, 'Mouthpiece'. Her BBC Radio docu-drama 'Bread and Butter' was shortlisted for Best Drama Production (BBC Radio and Music Awards) and made an international pre-selection for Best Radio Drama (Grand Prix Nova). She stages arts events and performances in unusual locations, such as on buses, in offices and in living rooms, and she has worked nationally and internationally at arts venues such as Bristol Old Vic (UK), Seedworks (USA), and Sophiensaele (DE).
---
This talk will be BSL interpreted and will be held in the building and online! Book your free ticket here.
'Songography' is a research project looking into alternative ways of mapping an area, based on how we locate ourselves and our communities. Jennifer Bell has been working with people from Mounts Bay to discover stories, which she interweaves with unaccompanied song, infused with verbatim from interviews. This material builds a cartographical picture, based on the interactions we have with it and with each other. She essentially looks at how people shape a place, and how place shapes people. 
Image Credit: Courtesy of Jennifer Bell and Plan8 VR
The project has culminated in a pilot audio walk, and an interactive, 3D map that people can explore online. Both forms of map contain true stories, song and singing, and as such, create a spiritual snapshot of an area. These are maps to get lost by. They are about what and who makes home, home. 
Image Credit: Courtesy of Jennifer Bell and Plan8 VR
Join us online on YouTube Live, or in the building on Friday 24th June 2022 at 1pm for the talk and to take part in the discussion afterwards.
Address:
Watershed, 1 Canon's Rd, Bristol BS1 5TX
Directions:
The Lunchtime talks take place in the Pervasive Media Studio Event Space. To access the Studio, please go to the Main Watershed Box Office entrance and go upstairs to the Café Bar (via the stairs or lift). Head across the cafe bar, turn right and go through the double doors. Go through into the corridor and go all the way down until you reach the Studio. A member of staff will sign you in, and check your ticket, if you have booked.
The Studio is wheelchair accessible, and the events space has a hearing loop. The last talk of every month is BSL interpreted. 
*Please note this is a hybrid event and will be live streamed so please be aware you will be in the live broadcast and recording when watching in the Studio.
---