Posted on Thu 20 Jan 2011
---
Bristol Old Vic's The Memory of Theatre
Bristol Old Vic's The Memory of Theatre Project features stories and recollections of the theatre through time. The project is being led by Artistic Director Tom Morris and Paul Clarke of Uninvited Guests. Memories are being…
Posted by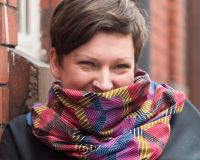 Clare is the CEO of Watershed and a Visiting Professor at University of the West of England.
---
Bristol Old Vic's The Memory of Theatre Project features stories and recollections of the theatre through time. The project is being led by Artistic Director Tom Morris and Paul Clarke of Uninvited Guests.
Memories are being collected in the location where they took place in the theatre: memory givers are asked to recall the event and talk about what was happening at that time both in their own lives and in the rest of the world.
Memories are being recorded binaurally - a method which uses two microphones simultaneously to capture 3d sound. 
Using Calvium's PIRL software, an iPhone application has been created which enables audiences to trigger and listen to the memories. This is being done in two ways, one system uses Ubisense's Real Time Location System to automatically trigger the memories when you walk into the appropriate spot. The other uses QR codes - where the audience can take a picture of a bar code and trigger the audio.
The Memory of Theatre iPhone application is currently being tested and will be available on the iTunes App store soon.
The PIRL system is being developed by technology start-up company Calvium, as part of a research project led by Watershed and funded by the Technology Strategy Board. Other partners creating trial experiences for the project are Historic Royal Palaces and mShed. 
Credits:
For Bristol Old Vic: Conceived and directed by Tom Morris and Paul Clarke.  Sound Design by Lewis Gibson. Technical
and Production Advisor, Jason Barnes. Line Producer, Charlotte Summerford.
For Calvium: Jo Reid, Tom Melamed, Richard Hull, Vanessa Bellaar SpruijtFor Watershed: Clare Reddington, Dan Williams
---