Uninvited Guests
Paul Clarke and Jessica Hoffmann
Uninvited Guests use creative technologies to make entertaining and provocative participatory performances.
---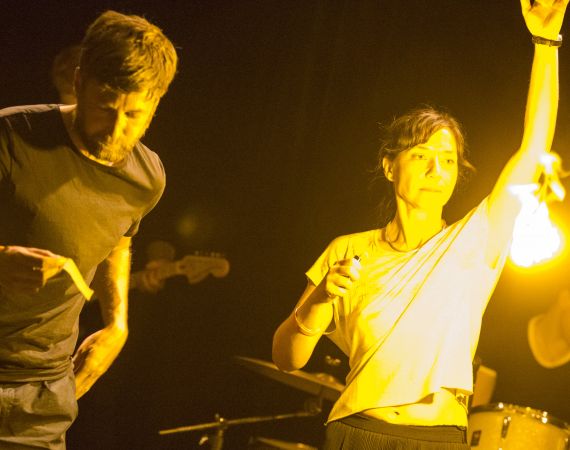 Uninvited Guests was founded in Bristol in 1998 by Paul Clarke, Jessica Hoffmann and Richard Dufty. During 20 years as collaborators, they have created entertaining and provocative theatrical experiences that explore urgent social, cultural and political ideas by combining the visceral with the virtual, high-tech with low-tech means. They make work in various contexts, focusing mainly on performance, but also making theatrical guided tours and designing experiences that integrate emerging technologies, apps and locative devices. We first worked with the PM Studio in 2010, on the Theatre Sandbox project, Give Me Back My Broken Night, made with resident Duncan Speakman. In 2016, the company collaborated on the award-winning interactive visitor experience, The Lost Palace, for Historic Royal Palaces, with Lewis Gibson, Chomko and Rosier, Calvium, Limbic Cinema and Fuel. Their work has toured nationally and internationally, showing in the UK, China, Germany, the Netherlands, Portugal, Spain, Switzerland, Slovenia, Austria and Australia.
We have become increasingly interested in making work in which the audience share in the authorship and shape the outcome of the event. Most recently we developed Billennium Square (After Ballard) with Duncan Speakman as part of the Layered Realities Weekend 5G Showcase. This guided tour of the future of Millennium Square used AR (augmented reality) and live-streamed, multichannel audio to enable you to see and hear different possible worlds. The tour ended with an opportunity to design tomorrow's city and see the buildings you imagined together layered onto the Bristol of today.
We are currently developing a new work called To Those Born Later. This participatory show invites its audience to explore the legacy we are leaving for future generations and asks what we would choose to preserve from our time. Using smart phones, the audience contribute images, objects, sounds, feelings and messages to a digital time capsule to be opened in 150 years.
Uninvited Guests are produced by Fuel.
Alongside Uninvited Guests, Jessica and Paul work independently on other projects:
Jessica Hoffmann
As well as devising and performing with Uninvited Guests, Jessica also works as a freelance artist on various engagement projects. She is currently working with the Bristol Old Vic Engagement Department on a heritage project for nursery-age children; with Bristol company Local Learning to creatively engage communities with their local heritage; and with Bristol University's School for Policy Studies to research the effectiveness of peer power to get teenage girls to be more active.
Paul Clarke
Paul Clarke directs Uninvited Guests and is a Senior Lecturer in Performance Studies at University of Bristol. He was the Research Fellow on Performing the Archive, hosted by the Live Art Archives and Arnolfini, and co-edited the book Artists in the Archive, which was recently published by Routledge. He was a member of the art collective Performance Re-enactment Society (PRS), with Clare Thornton and Tom Marshman, and made Memory of Theatre (2010), a REACT Heritage Sandbox project in collaboration with Tom Morris of Bristol Old Vic.
---