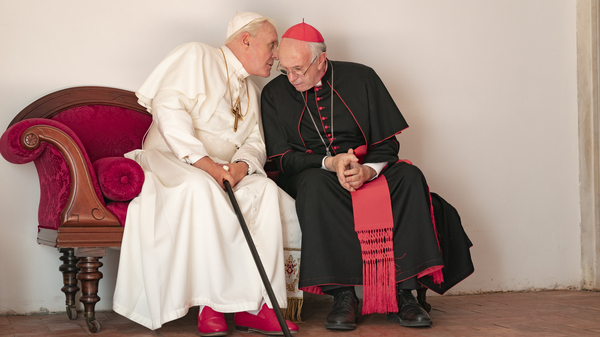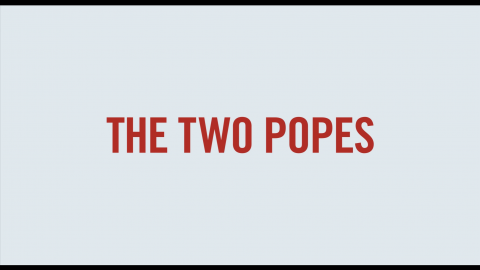 The Two Popes
classified 12A PS
Film
Please note: This was screened in Nov 2019
Director:

Fernando Meirelles

Cast:

Jonathan Pryce, Anthony Hopkins, Juan Minujín

Details:

125 mins, Partially Subtitled, 2019, UK | Italy | Argentina | USA

Primary language:

Latin | English | Spanish | Italian | French | Portuguese | German
Anthony Hopkins and Jonathan Pryce tussle over the future of the Catholic Church in the latest from director Fernando Meirelles (The Constant Gardener, City of God).
It's 2013 and the winds of change are blowing through the Vatican. Frustrated with the direction of the Catholic Church, Cardinal Bergoglio (Jonathan Pryce) requests permission to retire from Pope Benedict XVI (Anthony Hopkins). Instead, facing scandal and self-doubt, the introspective Pope summons his harshest critic and future successor to Rome. Behind gilded doors, they must find common ground to forge a new path for the Church, and ride the wave of one of the most dramatic transitions of power in the last 2,000 years...
Pryce and Hopkins are a total joy to watch together on screen, and Meirelles expertly takes us beyond the television images into the hearts, minds, and actions of those charged with leading a billion faithful. With surprising flourishes of humour (Cardinal Bergoglio whistling 'Dancing Queen' to himself in the Vatican's men's room, for one), it's a deeply rewarding experience.
Join us for Conversations About Cinema following the 17:50 screening on Mon 2 Dec when we will be joined by Prof. Tina Beattie, Dr. John P. Falcone (Union Theological Seminary), and George Ferzoco (University of Bristol), chaired by Dr Suwita Hani Randhawa for a panel discussion about the themes of the film from critical and feminist perspectives.
Download Programme Notes (PDF)
---