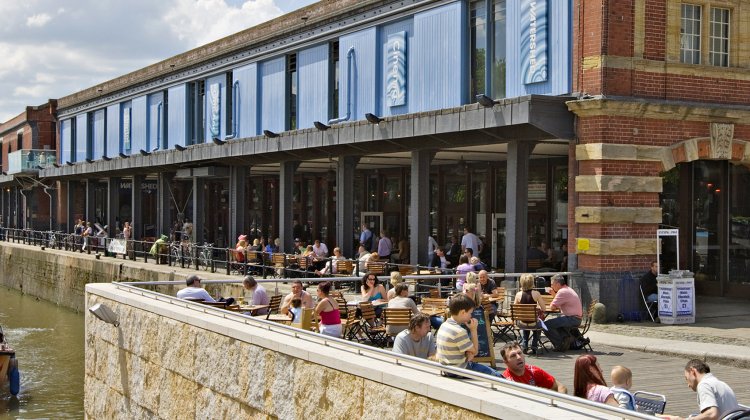 Welcome to Watershed
Watershed is a cultural organisation focussed on togetherness. We produce accessible and inclusive experiences that fire up the imagination in our venue, online and across the world.
Watershed is one of the most culturally upbeat and lively venues in the UK.
Mark Kermode, Journalist/Film Critic
An overview
We are recognised internationally as a leading centre for film culture, art and technology practice, and talent development programmes. Our values sit at the heart of everything we do, both creative and operational. With an ethos of responsibility and kindness, we produce and deliver support which is more than the sum of its parts. 
We have changed and evolved over the years, but our original sense of experimentation and creativity has remained central to our purpose.
It's not always been easy but the fact that we are still thriving owes much to our many supporters, the people who love what we do and have created the Watershed community.
×

Close
Help us make our website work better for you
We use Google Analytics to gather information on how our website is used. This information helps us to make changes to our website that improve the usefulness and overall experience for our visitors. If you would like to help us to make continuous improvements to our website, please allow us to set "first-party" cookies (only readable by us) so that we can distinguish visitors and gain greater insights.
Watershed is a cultural cinema, a research and creative technology research and development space (the Pervasive Media Studio), a Café & Bar and a Conference & Events space. Founded in 1982 with a passion for promoting new ideas and creating enjoyable experiences, since then, we have established ourselves as one of the few truly cross-art form organisations in the UK.
We present a diverse programme of films, events, festivals, artist commissions, workshops and conferences with audiences and participation at its heart. Playfulness, relevance and care are key to our approach across all areas.
---
Jobs & opportunities
At Watershed's heart we are all about people.
Be part of our story through applying for one of our diverse range of jobs and other opportunities.
Current opportunities
Watershed employs over 100 members of staff across a range of activities from organising an artist's residency or film screening to selling you a ticket or serving a meal.
Find out more about us, our roles and responsibilities. This should help you put a face to the name or a name to the face.
Visit
Directions and location information for visiting Watershed in Bristol city centre, plus information about current opening hours and accessibility.
Policies
Watershed policies detail the principles that underpin how we work with audiences, artists and staff.
Contact us
If you have questions, comments or feedback then find out who to contact in this list of email and telephone contacts for different parts of Watershed.