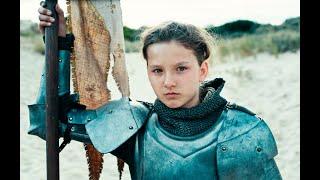 Joan of Arc
CTBA S
Watershed Recommends: Fri 19 - Thu 25 June
Streaming
Streaming on modernfilms.com in June 2020
Director:

Bruce Dumont

Details:

138 mins, Subtitled, 2020, France

Primary language:

French
Director Bruno Dumont makes the bold choice of casting a 10 year old as the teenage Joan of Arc in this semi-musical which follows the young Joan through her military career, her trial for heresy and her execution.
In 1429, the Hundred Years' War between France and England had already been going 90 odd years. Believing that God had chosen her, the young Joan is a leader of the army of the King of France and lifts the siege of Orleans, enabling the dauphin to be formally crowned as Charles VII.
After she is captured, she is sent for trial on charges of heresy, to be judged by pro-Burgundian and pro-English clerics. Refusing to accept the accusations, Joan remains firm.
The film was presented in the Un Certain Regard selection in Cannes 2019 and received the Prix Louis-Delluc for best French film of the year.
---