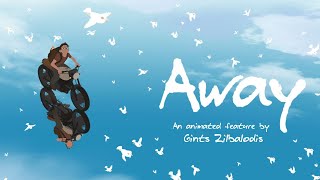 Film
Thu 24 - Sat 26 Sept
Director:

Gints Zilbalodis

Details:

75 mins, 2019, Latvia

Primary language:

None
After a mysterious crash landing, a young boy travels across an exotic island on a motorcycle, trying to escape a dark spirit and return home.
Along the way he makes a series of connections with different animals and reflects on the possible ways he ended up on the island. Part dream, part reality, Away explores our common, universal need to find a connection.
Written, produced, directed, scored, and animated entirely by award winning Latvian filmmaker Gints Zilbalodis, Away was beautifully crafted over three and a half years and developed from a previous short Zilbalodis had been working on. The story, told without dialogue over a series of breathtaking backgrounds, is equally inspired by reality, dreams, and waking fantasies.
---
Plan your journey to Watershed and book a table in our Café & Bar for food or drink. Event buttons now display the start and end time of each performance.
15:20 - 16:50

(nearly full)

Tickets are not available to purchase for this time.
AD

D

Dubbed

DS

Intro

Introductory Talk

QA

Q&A Session

R

Recorded

S

Subtitled

PS

Partially Subtitled

Times TBC

To be confirmed

CTBA

Certificate to be announced