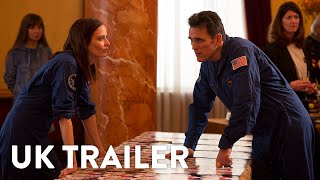 Proxima
classified 12A PS
Film
Sat 26 Sept - Thu 1 Oct
Director:

Alice Winocour

Cast:

Eva Green, Zélie Boulant, Matt Dillon, Aleksey Fateev, Lars Eidinger, Sandra Hüller

Details:

107 mins, Partially Subtitled, 2019, France / Germany

Primary language:

French
Sarah (Eva Green), an astronaut and mother, grapples with her commitment to her daughter as she undergoes gruelling physical training for a one-year stint in space in this epic and emotionally charged new drama.
Accomplished scientist and astronaut Sarah has achieved her career ambition of being chosen for a year long mission to the International Space Station. As she begins the intense physical and mental training, she wrestles with the realities of what achieving her dream will mean to her as a parent and to her seven year-old daughter Stella. As mission launch approaches and facing further challenges with her international team lead by an established NASA astronaut (Matt Dillon), Sarah's commitments to her job and duties as a mother are put to the ultimate test.
Writer-director Alice Winocour's stunning direction and immaculately researched script combined with a career defining performance from Eva Green, make Proxima a film that is a tender and moving portrait of a mother-daughter relationship, set against the backdrop of an awe inspiring journey of a lifetime.
---
Choose date & time: Proxima
Plan your journey to Watershed and book a table in our Café & Bar for food or drink. Event buttons now display the start and end time of each performance.
18:50 - 20:52

Tickets are not available to purchase for this time.
AD

D

Dubbed

DS

Intro

Introductory Talk

QA

Q&A Session

R

Recorded

S

Subtitled

PS

Partially Subtitled

Times TBC

To be confirmed

CTBA

Certificate to be announced