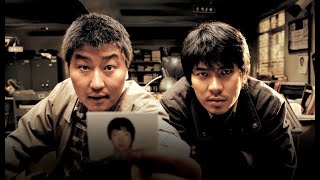 Memories of Murder
classified 15 S
Film
Thu 24 Sept - Thu 1 Oct
Director:

Joon-Ho Bong

Cast:

Kang Ho Song, Sang Kyung Kim, Roe Ha Kim, Jae Ho Song

Details:

132 mins, Subtitled, 2003, South Korea

Primary language:

Korean
Inspired by true events, Bong Joon Ho's (the Oscar®-winning director of Parasite) haunting sophomore feature follows two vastly different detectives in a small province of South Korea in 1986 who are eager to catch a brutal serial killer roaming the streets.
After two women are found brutally murdered, Seoul detective Park Doo-man (Song Kang-Ho) is brought in to help inept local detective Seo Tae-yoon (Kim Sang-kyung) investigate these horrific crimes. However, when the body count begins to rise and a pattern emerges, the pair realise they are chasing the country's first documented serial killer, and that they'll need to rely on their basic skills to piece together the clues and solve the case before the killer strikes again.
Recalling crime classics such as Zodiac and Seven, Memories of Murder is an unsettling anti-procedural that blends true-crime with social satire and even dark comedy in Bong Joon Ho's typically masterful fashion.
---
Choose date & time: Memories of Murder
Plan your journey to Watershed and book a table in our Café & Bar for food or drink. Event buttons now display the start and end time of each performance.
18:40 - 21:07

Tickets are not available to purchase for this time.
AD

D

Dubbed

DS

Intro

Introductory Talk

QA

Q&A Session

R

Recorded

S

Subtitled

PS

Partially Subtitled

Times TBC

To be confirmed

CTBA

Certificate to be announced