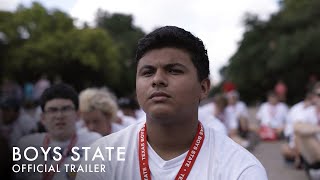 Boys State + Live Satellite Q&A
classified 12A
Film
Please note: This was screened in Oct 2020
Director:

Jesse Moss, Amanda McBaine

Cast:

Ben Feinstein

Details:

144 mins, 2020, USA

Primary language:

English
Winner of the Sundance Grand Jury Prize for documentary at this year's festival, Boys State captures a week-long annual programme in which a thousand teenage boys from across Texas gather for an elaborate mock exercise: building their own state government from the ground up.
Filmmakers Jesse Moss and Amanda McBaine closely track the escalating tensions that arise within a particularly riveting race for governor, training their cameras on unforgettable teenagers like Ben, a Reagan-loving arch-conservative who brims with confidence despite personal setbacks, and Steven, a progressive-minded child of Mexican immigrants who stands by his convictions amidst the sea of red.
In the process, they have created a complex portrait of contemporary American masculinity, as well as a microcosm of often dispiriting national political divisions that nevertheless manages to plant seeds of hope.
Event Schedule:
18.15 - Introduction
18.16 - Film starts (109 min)
20.05 - Q&A (30min)
20.35 - Ends
The film will be introduced and followed by a Q&A via Satellite with the film's directors Jesse Moss and Amanda McBaine.
---