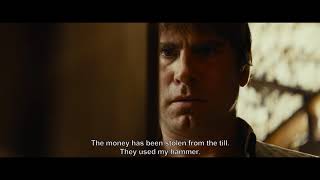 Streaming
Streaming on Vimeo in Dec 2020
Director:

Tim Mielants

Cast:

Kevin Janssens, Hannah Hoekstra, Jemaine Clement

Details:

97 mins, Subtitled, 2019, Belgium | Netherlands

Primary language:

Dutch | French | English | German
Peaky Blinders director Tim Mielants makes his feature debut with a tragicomedy centring around Patrick, the taciturn handyman at a nudist camp, a missing hammer and Patrick's ensuing search for said hammer.
Still living with his parents ,the owners of a run-down naturist campsite, Patrick has a steady routine but when his domineering father dies that steady routine is thrown off course as he finds himself in charge of the campsite. The problem is that Patrick has other things on his mind: he has lost his favourite hammer and his single-minded search for his tool sends him on a path of self-discovery and deep into the dark underbelly of the nudist camp's internal politics.
In turn funny, provocative, unsettling and poignant, Patrick is about people's peculiarities, letting go and being happy with who you are.
---